•
24 Sep 2008, 15:02
•
News
RtCW-Cup II is down to its last few games, with
=118= and
RAW meeting in the winners bracket final and
fixed against
No Pressure in the losers bracket Semi Final.
After some thrilling WTV games so far, seeing some of the tightest games ever in RtCW the next games should be no exception - both games should be played tonight, with the main event being shown on WTV.
=118=[/b]]

crumbs

def

juncie

MerlinatoR

SeN

sharky
vs.
RAW[/b]]

abort

dictator

edge

kritos

mAx

viX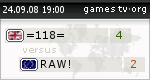 Please refer to the sticky thread to find out how to make WTV work! slots are limited to 50 on the WTV server so connect on time or early so you don't miss out.
sticky thread:
http://www.crossfire.nu/?x=forum&mode=item&id=18126
The Loser bracket Semi final features two teams who have played well most of the tournament, in which should be another good game - the winner of which will play the loser of the Winners Bracket Final to determine who progresses to the Grand final .. as you can see there arent many games left!
Fixed[/b]]

jonzi

lettu

nizou

Mrm

sipperi

sirkka
vs.
No Pressure[/b]]

ankel

Jauhis

Kris

syL

vaflor

zerom
Final Score nP 4-2 fixed
We hope viewers have enjoyed past games, and enjoy the few remaining ones to come.
http://www.rtcw-cup.com
#wolf.league