•
15 May 2011, 23:20
•
News
It's been a long day for a lot of us, but not as long a day as it's been for
Power Gaming and
OVERLOAd. After a lot of initially-worrying delays, we have pulled through at the first edition of ET E-Series by Kaos TV. Your champions, ladies and gentlemen, are
OVERLOAd - a team who had everybody talking about whether or not they would actually go once they had signed up. For those who doubted them, let this be a lesson.
Power Gaming
Jere
siL
ins
Jo0f
vANQ
OVERLOAd
saKen
SQuid
Ati_
NoHead
ZaK-
Date:
15th May 2010
Time:
21:30 CET
Maps:
Frostbite, Goldrush, Supply
Event:

Kaos TV E-Series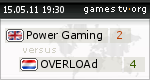 E-Series was an event that was created as a trial-run for a potential new Enemy Teritory LAN series seemed to create an unexpected hype parade with ET community dwellers wakening up to watch their beloved game on ETTV. However, those hopes were destroyed when it became apparent that ETTV could not connect to the local servers. At that point, the community's expectations still had to be met and players started their 2nd round games by playing on online servers just to give the community their ETTV fix. Soon after that, there seemed to be something or somebody affecting the upstream at the venue which caused everybody's ping to sky rocket. Back to local servers it was. We eventually managed to connect to the local network at Weesp thanks to Hamachi and the rest of the event was caught on ETTV.
Final standings
OVERLOAd
Power Gaming
3rd/4th TAG / Belgian Fraternity
5th/6th FiF.red / Team - Zodiacx
Thanks to
smuggy from Kaos TV for allowing the trial to take place
Jere for being the admin
h3ll for his outstanding server support
Marcus for helping resolve the connection issues for ETTV
The teams who attended
Will there be a next time? We've certainly learned a lot!