•
23 Sep 2011, 01:10
•
News
Ladys and Gentleman, oldschoolers of crossfire - This Saturday will be your chance to see the comeback of Ulrich Schulze aka
FlyingDJ
to your favorite online stream. He will be the host for the ESL Quake Live Bundesliga Finals on ESL TV and Take TV. Make sure you save the date as it is this Saturday live from 13.00 CEST Live!
The fromer GIGA2 CVD did leave the stage of streams but he is still active contributing to the German website readmore but. To remember the good old days with him a Quake show was the best way to motivate him, most likely.
Next to FlyingDJ it is
twister
who does attend his first major LAN in Quake Live. With his fifth place during the season he will replace Quad Squad player jaysson aka jiaom at the finals. Whish him the best of luck and enough will to perform as he usually does in his first match versus the German legend
k1llsen
. As twister the second Team-amity player qualified for the finals:
dKsL
will face ESC
reload
in the second match of the first round.
If the first round does not go as well as expected for twister this won't be his end: The tournament at this weekend will be played in a double elimination bracket with 4 participants. Without a doubt it is k1llsen as favorite for winning the tournament and as it is predicted it will be reload as runner up. Nonetheless all twister can do is put all his skills in his matches and succeed with a stunning performance.
The day will be fully packed with stunning quake live matches, elite commentating and presentations with deep insides about the players - unluckily for the majority on crossfire it will be in German - but still you can actually see real faces on stream including but not limited to FlyingDJ!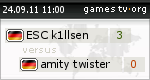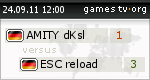 -
More about the show
,
Tune In
-
Matches on GamesTV.org
,
tournament bracket
If you want to support our glory fellows also spread the word about Quake Live on Facebook and win one of the three ESL TV Premium keys!
Check it out
.