•
12 Feb 2012, 18:13
•
News
As every Sunday the
GamesTV.org
schedule is full of fast-paced Enemy Territory action and with 22 games to be played this evening I am more than sure that everybody will find his very own favorite game to watch. I will write a short summary about some of the more interesting games concerning the CB NationsCup rankings and you can find all necessary information plus some player predictions below this text. The first game I want to talk about is the fight between
Team Croatia
and
Team Russia
in the 3rd Matchweek of the current CB NationsCup XV. Both teams are playing in Group D and both have already played against Australia and UK just with a fine difference - Croatia was able to beat the Aussie`s with 4:2 and thus they are still able to proceed to the playoff brackets. So in case Croatia is able to win their match against Russia and Team UK wins against Australia later tonight Croatia will go through but I am sure that old Pistols veteran slaw and his teammates will prevent danL and frozz from having an easy walk in the park.
Next is the meet up between
Team UK
and
Team Australia
. As you have just heared this match is very important for the outcome of Group D. Although it seems far more predictable on paper it can turn into an exciting match if shaggy and his comrade in arms are performing at their best and with a bit of luck on Missile they can bring it to a decider.
Team Sweden
have to gain their reputation after their previous defeat in the Library_b1 showmatch back and the game against
Team Chile
is not just about their reputation but also about deciding who will come 2nd in Group C and continue to the highly ambitious playoff stage. Tune in tonight and see if tornis, slajdan and his fellow countryman can cope with the pressure.
The last match I want to talk about is the match between
Team Netherlands
and
USA
. Again you can say this will be a very one sided game but I want to keep an eye on it due to the fact that the result is a preliminary decision for Group G. The guys across the ocean can just succeed by wining this match and hoping for a great performance of Team Swiss against Team Norway. Thus all USA supporters have to cross their fingers twice - not just today but also on the Swiss against Norway match day.
Update
: There was a late addition to the GTV Schedule. As mentioned above and to make it an even more thrilling night the Swiss vs. Norway match will be played at 21.00 CET tonight. Now it is upon you which match to follow!
Croatia
danL
ekjuret
frozz
rimi
nocTis
praskOo
Russia
arcadia
slaw
fubor
leotiran
damaskus
rizzin
Date:
Tonight
Time:
20:00 CET
Maps:
Missile, Radar
League:

6v6 NationsCup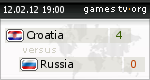 United Kingdom
Baggiez
razz
sqZz
R0SS
griim
koop
Australia
MiDAs
Meadow
dongo
shaggy
pedro
Im_Constructing
Date:
Tonight
Time:
22:00 CET
Maps:
Missile, Radar
League:

6v6 NationsCup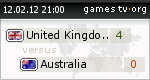 Team Sweden
tornis
slajdan
sAvage
newbje
jonas
ansikte
Team Chile
M@x
nozz
mercE
wfd
SinosukE
MgZa
Date:
Tonight
Time:
21:00 CET
Maps:
Missile, Radar
League:

6v6 NationsCup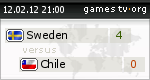 Netherlands
xPERiA
joshua
saKen
L4mpje
JALLAAAAA
SQuid
USA
Bape
Godfather
Hayzay
kardon
Joker
Larky
Date:
Tonight
Time:
22:00 CET
Maps:
Missile, Radar
League:

6v6 NationsCup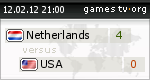 And again: to round this newspost off I gathered some predictions from known gamers -