•
13 Feb 2012, 05:36
•
News
Update 2:
The Final is after
Sleeperz
got rolled over by
Team Vj
.
Team Clown/Hello
won from
Delinquentes
. So this brings us to the final
Hello
versus
Team Vj
, starting soon tune in now at GTV. Featuring Great players like
Night,
Joshua
phyzic,
Olbaa and
Matias
Update
: The first semi-final is about to start. Check
GamesTV.org
and save your IP for the
Sleeperz vs.
Vj game with known players like
fanatic,
saKen,
phyzic and
Sinnu!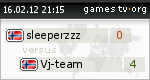 The Library_b2 cup is underway and with 10 teams participating we do have our tournament rolling. Currently the Round 2 games are starting and the semi finals with ETTv should start within the next 30 minutes!
Last week brought us two great ETTv showmatches played on a new map called "
Library
" and
BlAcky is currently working on a second beta with some bug fixing and smaller adjustments especially for the second- and last stage. This new version will be released within the next 48 hours and used for the upcoming Library_b2 tournament taking place this Thursday, 16th February right at 20.00 CET. In case you dont know the map feel free to
download
it and take a walk-through.
But keep in mind the cup will be played on the new version. Concerning the tournament details I can give you the following information:
6v6 #Library.cup
Thursday, 16th February
Check-in starts at 19.30 CET!
Maps:
1st Round: Library& Library
2nd Round: Library & sw_Grush_te
3rd Round: Library & Missile
Final: Library and loser choice
As you can see we forced two times Library in the first round and the idea behind this is simple. We want to reward all teams doing tactics for the new map because if the first round would be on Library and another normal map some might think they just can lose Library and take the normal and decider map to proceed to the next round. So better be prepared for the Library fight!
6v6 Library_b2 cup
Thursday, 16th February @ 20.00 CET
Check-in starts at 19.30 CET!
Atleast each captain has to join #Library.cup for better communication&match arranging
Maps:
20:00 CET - 1st Round: Library& Library
21.00 CET 2nd Round: Library & sw_Grush_te
21.30 CET 3rd Round: Library & Missile
22.15 CET Final: Library and loser choice

Mappool: Library_b2, radar, supply, sw_goldrush_te, adlernest, missile_b3

Decider map for all rounds: Library (in case you`ll need a decider for the first round matches you have to play Adlernest)

Admins: BlAcky, ScaTmaN, SPU9

Feel free to help us - just pm SPU9 @ #Library.cup

CB/ESL BANNED/CF TAGGED AND TZAC BUSTED PLAYERS NOT ALLOWED.

Every player has to record demos.

If a player is caught cheating, the team will be disqualified.

If a team doesn't show up for 10 minutes, they will be disqualified.

Thus means you need 6 players on the server and ready to fight not later than 10 minutes after the proposed starttime.

Every player must use TZAC, Linux/MAC users not allowed

Every team is supposed to check TZAC id's before the game and report any problems (banned players) to admin BEFORE the game starts.

Add your ESL or CB teamaccount to your tourney page in case you dont have all members registered there!

Check the tournament page for all rules!