•
24 Feb 2012, 03:23
•
News
One thing is sure, this Sunday you have enough to watch. We got 6 NationsCup games coming up. We are in the first round of the Playoffs. On Thursday 2 matches already got played. Turned out to be
Poland 4-0
Czech Republic and
Norway 2-4
France. I'm going to give you a short review on the latest matches of the playing teams. Aswell a look up to their upcoming opponents. I got a bunch of predicitions for you aswell gathered by
SPU9.
With the help of the community we will probably do an other live update!
Belgium
Jere
chry
mAus
fostrum
d4v1d
worm
player
Croatia
danL
frozz
rimi
ekjuret
nocTis
parskOo
Date:
26-02-12
Time:
21.00 CET
Maps:
sw_goldrush_te,adlernest
League:

CB ET NationsCup XV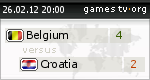 Belgium as one of the favorites of this NationsCup did what they where expected: They ended first in their group. They won from
Sweden with 4-0 and rolled over
Chile.
Croatia lost versus the strong line up from
The United Kingdom and let 1 map go versus
Australia. They also had to play against
Russia and won that without losing a map.
As you can imagine the odds are in favour of Belgium and by comparing both lineups that`s not a rum start.The winner of this game will either meet
Estonia or
Hungary.
Player to watch:
Jere for awesome rifling or
mAus if you like the sub machine gun more.
danL or
frozz
Canada
bN
rossko
rockstAr
monkey
sHAUN
punkk
The Netherlands
xPERiA
joshua
saKen
L4mpje
zak
SQuid
Date:
26-02-12
Time:
21.00 CET
Maps:
To be announced
League:

CB ET NationsCup XV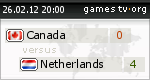 This match was played last year aswell, back then it was in the second round of the Lower Bracket. It ended up with
Canada 2-4
The Netherlands. Hopefully this game will be as exciting as last years.
This match is going to be streamed by YJZZ
The Group Stage's:
Canada had a good groupstage. They almost won everything. 4-0
Spain and won with 4 points for them versus
Romania. They had a close match versus
France that ended up 4-2 in favor of
France.
The Netherlands rolled through the groupstage with
xPERiA's 'new&active' line up. They were able to establish an amazing teamplay which rewarded them with clear 4-0 results against
Norway,
USA and
Switzerland.
Player to watch:
bN,
SQuid.
The winner of this match has to play versus
Poland who recently won verus
Czech Republic and
The Czechs will ofcourse be the opponent of the loser.
United Kingdom
Baggiez
griim
koop
R0SS
rAzZ
sqZz
Sweden
tornis
slajdan
sAvage
newbje
jonas
Nuggan
Date:
26-02-12
Time:
21.00 CET
Maps:
To be announced
League:

CB ET NationsCup XV
Arguable the best match of this Sunday with Allstars like
sqZz and I don't think that I have to introduce
NuggaN to one of you either. The gamesTV odds are in favor of
United Kingdom - perhaps deserverd, perhaps
Sweden is underrated.
The United Kingdom that shoud make it atleast into the top 5 of this NC showed what they are worth so far, without a struggle they won from
Croatia,
Australia and
Rusland.
Sweden had some struggles though, They lost versus
Belgium as said before and had to give away one map versus
Turkey. They take over both maps from
Chile.
The winner of this match will probably play versus
Germany and that leaves the loser with
Iceland but the match
Germany versus
Iceland still has to be played.
Player to watch:
sqZz,
NuggaN
Iceland
rNz
phyZiC
deztr0
PEARL
jEzt0rr
YuKi
tw1N
Germany
Bl4d3
butchji
FLoPJEHZ
KRESTi
s1LENT
sNoOp
Date:
26-02-12
Time:
21.30 CET
Maps:
radar,bremen_b3
League:

CB ET NationsCup XV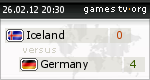 This match should be fairly easly
Germany. According to the recent poll here on crossfire the favorites of this NationsCup are
Germany. Yet this could be a more than enjoyable to spectate with allstars like almost the whole
German line up and the headshot hunter from
Iceland himself, I'm talking about
Phyzics ofcourse!
This match is going to be streamed by YJZZ
What will come next won't be a surprise:
Hungary,
Slovenia and
Colombia all lost to the Favorites
Germany. As you are expecting aswell
Iceland had a harder groupstage, taking over
Portugal with 4-2 and losing from
Estonia with the same score but obvious in the favor
Estonia. They toke 4 points of
India though.
Although I wish
Iceland the best of luck, I'm going to say that
Germany will continue in the Upperbracket. They will face either
The United Kingdom or
Sweden.
Iceland will face one of them either depening on who loses.
Player to watch:
phyZiC, Like I said for
Germany you are pretty much fine with anyone.
Estonia
frEeze
mant
Night
rAUL
Sinnu
Subbi
Hungary
Nonix
Ocelot
Wolfplayer
sebi
varadi
powi
Date:
26-02-12
Time:
21.30 CET
Maps:
To be announced
League:

CB ET NationsCup XV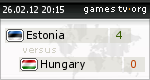 Estonia won their group stage with only losing a single map to
Iceland. They rolled over both
India and
Portugal.
Had a harder group, one including
Germany. They had to give away the match to
Germany as you might expect but won from
Solvenia with 4-0 and lost 1 map versus
Colombia make it 4-2 for
Hungary
The winner of this match will probably face it of to
Belgium in the next round of the upper bracket and the loser will go to the lower bracket where we are expecting
Croatia for them.
Player to watch:
Night,
Nonix
Finland
twidi
Jewe
squalli
vanhaomena
Stuka
Sample
Austria
bl1zzardx
v1ech
jaN
scorch
limbonic
kALLI
Bruzl4h
Date:
26-02-12
Time:
22.00 CET
Maps:
To be announced
League:

CB ET NationsCup XV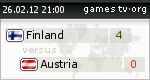 The Finns being the close second in the crossfire poll for the title of favorites are probably going to take this home. The GamesTV odds tell us the same story.
This match is going to be streamed by YJZZ
Finland rolled over their opponents leaving not a single map for their opponents:
Czech Republic,
Israel,
Brazil.
Austria was in a group with 1 disqualifed country:
Ukraine so they only had to play
Poland which they lost from with 0-4. Also they played versus
Italy, they lost 1 map here and thus managed to take it home with 4-2.
In all likely look hood
Finland will play versus
France in next round and
Austria will player versus
Norway
Player to watch:
squalli,
bl1zzardx
]









CB Playoffs tree
Schedule:
19.02.2012 - 26.02.2012 W1 - Upper Bracket 1
26.02.2012 - 04.03.2012 W2 - Upper Bracket 2 and Loser Bracket 1
04.03.2012 - 11.03.2012 W3 - Loser Bracket 2 and Upper Bracket Round 3
11.03.2012 - 18.03.2012 W4 - Loser Bracket 3
18.03.2012 - 25.03.2012 W5 - Loser Bracket 4 and Upper Bracket Final
25.03.2012 - 01.04.2012 W6 - Loser Bracket 5
01.04.2012 - 08.04.2012 W7 - Loser Bracket Final
08.04.2012 - 15.04.2012 W8 - Grand Final
Playoffs matches - Part of rules
[/b]]
A playoff match is played at least on 2 maps. Both clans select a map from the map list before the start of the match and inform the cup admin at least 30 minutes before the match is set to start. The admin will not announce maps until both teams have confirmed their choices with him/her. In case both teams have chosen the same map, the second map will be selected with the conventional method of map elimination, preceded by a cointoss. The admin will choose which map is played first.


One SW round will be played on each map.


The admin will choose which map is played first.


Each team will decide on which side to start on the map chosen by their opponent.


Round wins are added to determine the score: the team that wins a SW round receives 2 points; if both teams fail to set a time in a SW round, both teams will get 1 point. So possible scores after the two first maps are: 4-0 3-1 2-2.


In case the game is tied, an extra SW round is played on one of the remaining maps from the maplist. Teams take turns eliminating maps. The winner of the coinflip eliminates the first map, followed by the other team until one map is left to be played. When a map is selected, the team which didn't have final pick chooses who attacks first.


Clans are forbidden to chose the same map, previously selected in their two most recent playoff games.
CupSupervisor:
GoldoraK
Co-Sup:
t4MjEE
NationsCup XV - Enemy Territory
#Clanbase.et