•
27 Mar 2012, 19:19
•
News
The qualifiers for the ESL Country Championship go on. Yesterday we already had 4 games and tonight we will have 5 more. Finlantic6 and Mitiih already played today at 15:30 CEST, With gbooky statistics of 1.01 vs 100.00 it won'te be a surprise that Finlantic6 won the game with a score of 4-0.
Tonight's mappool will be just like yesterday containing: Aldernest, Supply, sw_goldrushe_te and Frostbite. And once again I'm going to remind you that this mappool is only for the Qualifiers. The mappool for the 'main' Country Champsionship is yet to be announced. Like I said 5 games tonight Romania, The Netherlands, Germany, Finland and the United Kingdom will all play tonight trying to conquer the much wanted spot to represent their country.
Finlantic6
OLBAA
Salaneuvos
twidi
Mitiih
Osmahe
Sherclock
Ollirna
Date:
27-03-12
Time:
15:30 CEST
Maps:
-
League:

3on3 CC Qualifiers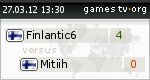 Judging from the statistics
Salaneuvos is the player to spectate with 6.5K damage roughly ~1.2K more than both of his teammates he most have been on fire. Finlantic6 was seeded higher with RAAB which ment for them that they didn't have to play in round 1 of the national qualifiers and this also means that they qualified themselves for the final by winning this match. Next matches for finland will be re+play vs RAAB with RAAB being the favorites.
III Musketiers
Mott4
imPlux
Highway
Mouse Control
saKen
Joshua
SQuid
Date:
27-03-12
Time:
20.00 CEST
Maps:
To be announced
League:

3on3 CC Qualifiers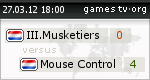 Mouse Control are clearly the favorites here. saKen Joshua and SQuid have been together for long time and there stable aim and teamplay should give them the victory. Joshua has made the switch to the rifle in 6on6 but hopefully still has the awesome aiming skills he used to have with the SMG. Perhaps the less known III Musketiers can surprise us with awesome teamplay and by that giving us an exciting game to watch. The winner of this match will take a spot in the finals of the national qualifiers versus Draakjes. Suprisingly Keyboard Warriors lost yesterday versus Draakjes. Quoting xPERiA:'not just one thing went wrong, everything went wrong'
Team Reload
raZy
Stary
Pity
RR CLAN
TzUku
bullet
miLi
Date:
27-03-12
Time:
20:00 CEST
Maps:
To be announced
League:

3on3 CC Qualifiers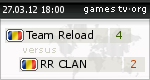 The finals of the Romania qualifiers. The winner of this will play in 'Rest of Europe' second stage qualifiers. Romania had 3 teams singed up this edition of 3on3 NC. United forces lost versus Team Reload in the first round of the national qualifiers.
megaProGaming eSport
butchji
drago
FLoPJEHZ
rApeit
mztic
silenZy
sYnop
Date:
27-03-12
Time:
20:00 CEST
Maps:
To be announced
League:

3on3 CC Qualifiers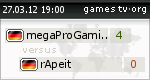 Probably the favorite of the German qualifiers,megaProGaming eSport featuring the legendary butchji and former dignitas player drago returning from inactivity combined with FLoPJEHZ will make this more than interesting game to watch. It would be amazing if rApeit could prove my words wrong and show the old schoolers how it's done today but we can only hope for that.
re+play
vokki
Swanidius
Webe
Red as a beetroot
walle
lettu
hazz
Date:
27-03-12
Time:
22:00 CEST
Maps:
To be announced
League:

3on3 CC Qualifiers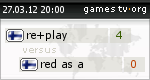 Continuing the finnish qualifiers with another semifinal. RAAB being the favorites featuring no one less than walle! The winner of this game will play in the final versus Finlantic6.
causamortis
rAzZ
sqZz
stAR
Grenades Galore
chewz
mAv`
sTKz
Date:
27-03-12
Time:
22:00 CEST
Maps:
To be announced
League:

3on3 CC Qualifiers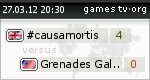 Finishing off today's games with an interesting game a battle for the spot of United Kingdom's 3on3 team. Featuring one lineup with UK stars rAzZ and sqZz perhaps a breakthrough for stAR better known as Artstar. They will fight it off with Grenades Galore, a team that is usually active late at night. Causamortis are the favorites of this match but Grenades Galore are surely not just going to give it away.
How do the qualifiers work?[/b]]
Qualifiers are going to be played as one day cups.
First step - national qualifiers!
This means that each nation that has more than 2 teams signed up for it will play a qualifier to decide which team will represent the country. Only 1 team will qualify for each country!

Second step - Rest of Europe & NA qualifier!
As we only have only 16 free spots for the group stage and 24 nations, we'll have to drop 8 nations. That's why we'll create another qualifier after we know the teams that will represent their country.
Invites
11 countries are invited directly this means there are 5 spots left, 4 will go to the rest of Europe and 1 will go to non-euro qualifiers.
Finland

Germany

Poland

Netherlands

France

Sweden

Estonia

Czech Republic

United Kingdom

Spain

Canada
-
Iceland

Croatia

Belgium

Austria

Switzerland

Hungary

Italy

Slovenia

Romania
-
Chile

Australia

United States

El Salvador
National Qualifiers Schedule
Finland Qualifier
-> Sunday(25.03) + Thursday(29.03) + Sunday(01.04)
Germany Qualifier
-> Sunday(25.03) + Wednesday(28.03) + Sunday(01.04)
Poland Qualifier
-> Sunday(25.03) + Tuesday(27.03) + Sunday(01.04)
Netherland Qualifier
-> Monday(26.03) + Tuesday(27.03)
France Qualifier
-> Sunday(25.03) + Wednesday(28.03)
Sweden Qualifier
-> Thursday(29.03) + Sunday(01.04)
Estonia Qualifier
-> Monday(26.03)
Czech Republic Qualifier
-> Sunday(25.03) + Wednesday(28.03)
United Kingdom Qualifier
-> Tuesday(27.03) + Thursday(29.03)
Spain Qualifier
-> Thursday(22.03)
Italy Qualifier
-> Monday(26.03) + Wednesday(28.03)
Hungary Qualifier
-> Sunday(25.03) + Tuesday(27.03) + Thursday(29.03)
Slovenia Qualifier
-> Thursday(22.03) + Sunday(25.03)
Romania Qualifier
-> Sunday(25.03) + Tuesday(27.03)
Rest of Europe Qualifier
-> Thursday(29.03) -> Sunday(01.04)
Non-Euro Qualifier
-> Thursday(29.03) -> Sunday(01.04)
ESL:Country Championship Qualifiers 2012