•
25 Apr 2012, 15:17
•
News
As the CyberGamer AUS.ET Community Draft Cup nears its end we are only left with one game to go and is no doubt going to have you on the edge of your seats or whatever it is you nerds sit on when you watch ettv in the morning. The lower bracket final needs to be decided...
The match will be broadcasted on
GamesTV
with live streaming audio video casts from our very own mc
biggz
to bring you guys the action.
LOWER BRACKET FINAL
Team Midas and Team Chiver find themselves fighting for the best losers this week and a one way ticket to face the undefeated Upper Bracket Champions, Team Volta in the Grand Final.
Team Chiver were sent very early to the lower brackets, going down in the first round against Team Volta. However, they've managed to pick themselves up and pretty much cruise their way through the lower brackets taking down the teams lead by
hammerkrook,
meadow and
dongo.
chiver will be hoping to use his quakecon 2005 experience to lead the charge with
pedro and
royalty and continue their winning streak with this next match.
Team Midas have dominated up until they met
volta's team last week in the upperbracket final, bringing them back to reality. I guess Chiver was just lucky to get it out of the way during round one. But if there's anyone that can lift their team after such a tough loss, it's with kind words and encouragement that can only come from
MiDAS.
Diablo aka pakeha's brute landmining skills and
nasri aka Adam's deadly backrage could very well be the difference in this battle.
Maps//
Custom Picks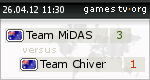 ENJOY!
As a bonus we have a show match with the CyberGamer Premier League winners, xFx.eSports taking on the old school has-beens, the Wood Ducks, who dominated the aus.et scene back in our GameArena ladder days as a formed super team, mixed of players from RoK, Modus Operandi and Adversus.
With
riCo,
shaggy and
dongo in the one team we should definitely see some nice aggressive gibbing and objective play, allowing
Chevron and
angelus the room they need to do some heavy damage.
Players to watch
-
dongo and
I'm Constructing!
In the other corner we have xFx.eSports, intially formed from a forever lasting friendship between
MiDAS and
Meadow, who found the troubled et player
Pedro, an outcast in aus.et after accusations of cheating in a GameArena match, gave him the second chance he needed to find his spot as the #1 smg engineer in Australia.
Matias will be joining them as the 6st during this game as unfortunately (for xFx)
volta wasn't available, even after hours of begging from midas himself, due to his strong commitment to his draft cup team.
Players to watch
- Young gun
MiDAS for some video game money winning plays and predictable riflenades,
Stompy for some great mg42 action or
bN for some team.volta ownage.
Maps//
Custom Picks