•
2 May 2012, 11:41
•
News
Australia's first CyberGamer.com.au ET Draft cup has been an amazing success. It has pulled the aus.et scene from an inch of death and brought back players we thought were long gone from holding an mp40 ever again.
This week features the last game of the cup, the Grand Final. It has actually been a very long time coming as we were expecting this tournament to be finished within a few weeks. Some of it was a little dodgy with the organisation of times and the availability of some players, but that was sort of expected with our scene coming out of such an apathetic state. It was also my first time as an admin for anything, ever. Couldn't have managed any of it without the help of our main man
biggz!
But with all that aside, the match you guys have been waiting for is finally upon us - The CGo Aus.ET Draft Cup Grand Final!
This
match
will be broadcasted on
GamesTV
with live streaming audio video casts from
Gamestah.com
with Chrisis and EJ joining us once again to bring you guys all the aus enemy territory goodness.
GRAND FINAL
Team Midas makes it back to the main stage with a second shot at Team Volta except this time the stakes are much higher!
Team Midas were dropped to the loser brackets by Team Volta 3-1 in the upperbracket final with both teams being full held on Goldrush then
volta's team managing a win on Radar straight after.
Meanwhile, Team Chiver were looking very nice as they cruised through the lower brackets throughout this cup until they met with Team Midas in the Loser Bracket Final last week.
MiDAS led his team to 3-1 victory in a similar fashion to the upper bracket final with double full holds on Goldrush and a very narrow win on radar.
Team Volta's lineup changes this week after a couple of drop outs due to work commitments with
swerve replacing
pie and oldschool damage dealer
dARKNESS taking time off from dota2 to replace #1 pub player
skukz.
Team Midas continues to field his NZ allstar team with old premier league team cmsfe player
meteor joining his ranks of kiwis in place of
jowlzaah and
covert stepping up for a second time filling
T.Bickles boots.
Team Volta
volta
bN
siNi
metal
swerve
dARKNESS
Maps//
Custom Picks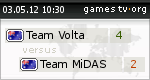 Team MiDAS
MiDAS
pakeha
Adam
rainbow
Covert
Meteor
Captain Statements
volta[/b]]
MiDAS[/b]]
dongo[/b]]
biggz[/b]]
meadow[/b]]
chiver[/b]]
ENJOY!