•
3 May 2012, 16:14
•
News
Thursday, Thursday, Thursday...
We are coming closer and closer to the end of the Battle For Berlin II, a tournament that has shown us how coverage is done for ET, a tournament that brought us stunning games.
Queens already qualified themselves for the Grand Final by
beating
Anexis
with a stunning score of 4-0.
Queens have secured
6 Razer Deathadder mice
already but they surely don't aim for the second place and the victory over the "unbeaten" Anexis has given them a fair amount of confidence.
Tonight's match up sees
mPG face
TAG where the winner will claim a top4 position and face
Finlantic6 in the next round of the lower bracket and the loser will be packing their bags! News has come through that
griim, recent UK Nations Cup Winning team member, has decided to quit Enemy Territory and thus tag will need to find a replacement,
Scarzy has been lined up for Adroits ET Masters but has already played for bF so cannot play for TAG in BFB. This will be a massive loss for TAG in BFB and for the upcoming LAN event, hopefully griim has a sudden change of heart! The game tips off at 22:00CET this evening, be sure to tune in!
miNd's Pro Gamers
miNd
Clown
drago
perfo
Nuggan
subbi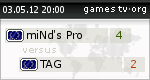 TAG
Lightning
griim
TBA
meez
kReSti
stownage
FLoPJEHZ
Let's start with LB round 4.
TAG were often mentioned as one of the podium pretenders. Since the team was created they managed to lose only one game and even though they seem a bit '
shaky
' and are definitely losing at gbooky odds you shouldn't cross them out so quickly, with the addition of
meez they might surprise!
mPG on the other hand looked really good until facing top seeded team Anexis eSports, where they were beaten badly. This is a tough call and with dropping out of the competition on the line no one wants to under perform.
Due to time issues we decided to change the schedule a bit, please take a look at the updated schedule and make sure to not miss out on any of the upcoming games!
Schedule[/h2]]
Tuesday 10th April – WB Round 1 (Adlernest + Loser's choice)
Thursday 12th April – LB Round 1 (Bremen_b3 + Loser's choice)
Tuesday 17th April - WB Round 2 (Bremen_b3 + Loser's choice)
Thursday 19th April - LB Round 2 (Supply+ Loser's choice )
Tuesday 24th April - WB Round 3 (Supply + Loser's choice)
Thursday 26th April - LB Round 3 (Goldrush + Loser's choice)
Tuesday 1st May – WB Final(Free Choice)
Thursday 3rd May - LB Round 4(Radar + Loser's choice)
Sunday 6th May – LB Round 5(free choice)
Tuesday 8th May – LB Final(free choice) - Grand Final(free choice)

[/url]