•
21 May 2012, 12:34
•
News
Only six teams are left in the seeding tournament and it's the penultimate day of games that will see the Upper Bracket Final take place as well as two rounds of the lower bracket. First up in the lower bracket
The Cube will look to continue their run of performances up as they take on
Team PDEG, the winner of which will face either
ZeroE or
Lost Soldiers to determine who will finish in a minimum of third place.
The Upper Bracket Final is of course scheduled as well with
Anexis eSports coming up against
Finlantic6 in what should be an entertaining game. The first games are due to start at 20:30CEST tonight, tune in and don't miss out!
Upper Bracket Final
Anexis eSports
mAus
mant
Squall
sqZz
R0SS
Night
Clown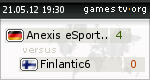 Finlantic6
Iron
Jewe
Matias
OLBAA
Salaneuvos
twidi
Lower Bracket Round 5
Lower Bracket Round 4
[/center]]



Rules[/b]]:: ROSTERS

Teams must play with their expected LAN roser
1 substitute/merc is allowed on the following conditions:
New player is of similar skill level of the player being replaced

Must not be playing for any other team in the Adroits ET Masters LAN and/or seeding tournaments

:: ANTI-CHEAT

TZAC will be forced on all servers. If your server does not have TZAC forced, please contact a tournament admin
* In the case of TZAC being down or causing continuous technical issues, tournament admins may allow for the match to be played on a non-TZAC server (proof of technical issues must be provided)

:: MAPS & PICKING

Adlernest

Bremen B3

Frostbite

Goldrush

Radar

Supply Depot

UPPER BRACKET ROUND 1:
MAP1: Frostbite
MAP2: Loser of Frostbite picks
DECIDER: Winner of Frostbite picks

UPPER BRACKET ROUND 2:
MAP1: Adlernest
MAP2: Loser of Adlernest picks
DECIDER: Winner of Adlernest picks

LOSER BRACKET ROUND 1:
MAP1: Adlernest
MAP2: Loser of Adlernest picks
DECIDER: Winner of Adlernest picks

LOSER BRACKET ROUND 2:
MAP1: Radar
MAP2: Loser of Radar picks
DECIDER: Winner of Radar picks

SEMI FINALS:
MAP1: Radar
MAP2: Loser of Radar picks
DECIDER: Winner of Radar picks

LOSER BRACKET ROUND 3:
MAP1: Frostbite
MAP2: Loser of Frostbite picks
DECIDER: Winner of Frostbite picks

LOSER BRACKET ROUND 4:
MAP1: Adlernest
MAP2: Loser of Adlernest picks
DECIDER: Winner of Adlernest picks

UPPER BRACKET FINAL:
MAP1: Cointoss winner picks
MAP2: Cointoss loser picks
DECIDER: Cointoss winner removes first, cointoss loser removes second, cointoss winner removes third - Remaining map is played

LOSER BRACKET ROUND 5:
MAP1: Cointoss winner picks
MAP2: Cointoss loser picks
DECIDER: Cointoss winner removes first, cointoss loser removes second, cointoss winner removes third - Remaining map is played

LOSER BRACKET FINAL:
MAP1: Cointoss winner picks
MAP2: Cointoss loser picks
DECIDER: Cointoss winner removes first, cointoss loser removes second, cointoss winner removes third - Remaining map is played

GRAND FINAL:
MAP1: Cointoss winner picks
MAP2: Cointoss loser picks
DECIDER: Cointoss winner removes first, cointoss loser removes second, cointoss winner removes third - Remaining map is played
(In case of bracket reset, this is played again)
Schedule[/b]]Day 1 - Wednesday 16th May 2012:
20:00 CEST - Upper Bracket Round 1
21:00 CEST - Upper Bracket Round 2 & Loser Bracket Round 1

Day 2 - Thursday 17th May 2012:
20:00 CEST - Loser Bracket Round 2
21:00 CEST - Semi Finals & Loser Bracket Round 3

Day 3 - Monday 21st May 2012:
20:30 CEST - Loser Bracket Round 4
21:30 CEST - Upper Bracket Finals & Loser Bracket Round 5

Day 4 - Tuesday 22nd May 2012:
20:00 CEST - Loser Bracket Finals
21:00 CEST - Grand Finals
www.adroits.net
Like us on Facebook
Follow us on Twitter
Full Bracket