•
21 May 2012, 18:36
•
News
After struggling with some teams which are delaying the cup we are back on air with some updates. Find out which matches will be played tonight!
3on3 Series
lettu
from
red as a beetroot
:
I'm not really all that familiar with our opponent, but I assume they wont be easy or anything. Our shape was quite poor in our last offi, so I guess it comes down to how well we can perform today.
walle is a little sick and hasntplayed much, but hopefully we can still play well and get the win. We are counting on
filuS to carry.
sCope
from
epicAimers
:
Statement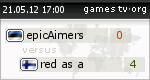 6on6 Series
fanatic
from to
Make odds even.ET
:
It won't be our 1st game against
zeroE (counting both offi and praccs) so we are quite aware of ouropponent's quality. Few days ago we beat them with 4-0 in EuroCup game and this time I think we will take it without losing a map as well. Due to a lot of free days + hot weather, diablo 3 and some slight lineup issues we don't prac much but we are confident about our awesome skillz so we are ready to take on those guys! Player to watch is obviously
hunter or
zMk (because I'm not playing :D)
mental
from
inteRaction / Zero Empathy
:
Statement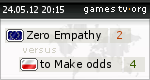 Other matches