Cancel
Dariusz
Lives in Poland
4 years, 11 months and 9 days
Profile hits: 661
Highly active super awesome contributor!
Can hardly keep his mouth shut!
Active contributor to Crossfire!
(2 more)
About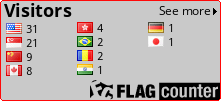 congratulations
My journal list
special chick for visitors <33
xfire: cancel2010
/q Cancel' / Cancel'0FF @ #hellsangels.et, #3on3.et, #5on5.et, #h&s.et
one of random inactive ET players, only e-mail atm
This user is not a member of any groups.
Information
Gender
Male
Website
http://www.google.cn/
Achievements

Your posting rights have been revoked by Baggiez until 14 May 11 for LOLOLOOL.

TZAC ID 00000906

CPU
HP Compaq 8510w // Intel Core2 Duo T9500 @ 2,6GHz
Memory
4 GB RAM
Storage
200 GB SATA II 7200 rpm
Graphics
NVIDIA Quadro FX 570M @ 256MB, CAD/CAM dedicated
Sound
Analog Devices AD1981 HD Audio
Operating System
Windows 7 Pofessional SP1 64-bit PL
Monitor
15,6" 16:10 1920x1200 WUXGA
Keyboard
inside notebook
Mouse
blue trackpoint
Mousepad
inside notebook
Headset
Philips SHM3300/00
Connection
~80Mbps / AGH Campus in Cracow YAYYYYYYYYY