•
29 May 2013, 13:26
•
Events
•
START: 13 June, 2:21
Cup date: Wednesday the 29th of May, 20:00 CET (GMT +1)
Team format: 6o6
Additional information:
ETTV: Yes
Shoutcast: If #ShoutcastCollective / Adetoo is up for it
The maplist for the Enemy Territory gMen 6on6 Cup is:
fueldump
radar
railgun
sw_oasis
sw_battery
sw_goldrush_te
Admins:
timbolina /q timbolina
Azur
Buzzer
rito
I am still looking for one or two admins who would like to help me for tonight.
Miscellanious information:
Signups till 19:59 CET (GMT +1)
Check-in start from 19:45 till 19:59 CET (GMT +1)
Schedule:
Round 1: fueldump
Round 2: radar
Round 3: sw_battery
Semi Final: railgun (ETTV)
Grand Final: sw_oasis / sw_goldrush_te (ETTV)
Maps can still be changed depending on the amount of sign-ups and demand for other maps
I have made a mix of new and oldskool W:ET maps for this mappool.
Prizes
I heard there was some interest in doing prizes for this cup. If anybody wants to sponsor please contact me. I have no clue on how to do prizepools (using paypal), so I will ask somebody else to take care of the prizepot if there is any.
Thomm €10,-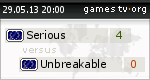 If there are any questions that are not listed in the text above, please contact an admin.
Sign up link:
http://gentlemen.tourney.cc/sign-ups/
Website link:
http://gentlemen.tourney.cc/
Rules:
http://gentlemen.tourney.cc/pages/rules/