•
11 Jun 2013, 21:46
•
Events
•
START: 12 June, 19:00
It has been a while since last exitium cup was hosted, so i decided to bring it up and make the name familiar among the community again. Many of u remember the team and the players marking history of this incredible community, so now it's time to feel it yourself first hand by competing in this edition of the
3on3 Cup
.
I took this opportunity to host the cup, as Clanbase recently published updated 3on3 ladder maplist, so I want to make this as a chance for the players never experienced
et_ufo_final
and
erdenberg_t1
or just want to be more familiar with the new maplist.
So lets head on and review the rules, schedule and the rest of information regarding the cup.
Cup date:
Wednesday the 12th of June 2013, 20:00 CEST
Team format:
3on3
Additional information:
ETTV: Yes ( Grand Final )
Shoutcast: No
By
signing-up
you agree with the rules set for this cup, which can be viewed
here
The maplist is the same as the newly published ClanBase 3on3 ladder maplist:
• adlernest
• braundorf_b4
• erdenberg_t1
• et_beach
• et_ice
• et_ufo_final
• frostbite
• sp_delivery_te
• supply
• sw_goldrush_te
Miscellaneous information:
Check-ins from 19:45 CEST onwards
Sign-ups till 19:59 CEST
Brackets at 20:00
Schedule:
Round 1: et_ufo_final
Round 2: erdenberg_t1
Round 3: sw_goldrush_te (if 32 teams)
Final: Both finalists can select own map from the maplist
The Grand Final will be played on ETTV and is Bo3.
A show match of
erdenberg_t1
can be viewed
here
For any additional assistance or questions you can query me at #exitium.et@quakenet under the name "Aniky"
| | |
| --- | --- |
| Click here to sign up | idle #exitium.et |
Grand Final
TOURNEYWINNERS
upload
wassabi
yokoo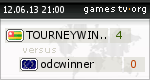 Semi Finals