This is the current selection of the dutch line up for the 2015 Nations Cup.
The Netherlands announcement post
Selection
Medic:
Jay
joop
L4mpje (second rifle)
NoHead
outlAw
SQuid
vaNQ
Field ops:
aphesia
Engineer:
iNsAne (second engineer)
Lightning (rifle)
Results
Showmatches:
12-05
Poland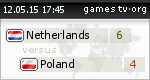 Cups:
Ladder matches:
Official NC matches:
Player information

- Class/role;
This time my class is Engineer for the Royal Dutch Lions. In general im used to playing all classes, from aggressive to defensive medic, second fops and second or third engineer or even covi when needed. My role as Engineer suits me well because I feel like a strong aim combined with an objective based play style, really does the trick more than only an objective based player.

- NationsCup expectations;
My predictions are very high; There are a lot of sign-ups wich is promising and also it's good to see some old teams back like Israel and Italy.

- The best ET memory you have;
ET Reborn LAN, just for the fact I could meet the boys up i've been talking to for years.

- Who do you see as competition in the NC;
If we are able to beat Finland, there's no competition. This year's NC goes to the Lions.

- What else?
All teams GL and most importantly HF!

My role is to play as an agressive medic and 2nd fops. The best memories I have are the day that clanbas went offline (:D) and ofcourse becomming 2nd at the ET Reborn LAN. I think the biggest competition of this year will be team UK. Good luck to all the nations this year :). This year the gold will go to team Netherlands ofcourse.
Contact
#et.nl
Or pm
timbolina
HERE
.
Description
This is the selection of the Netherlands for the 2015 NC.
Contact information
#et.nl