•
24 Jan 2019, 14:45
•
Journals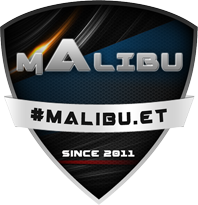 mAlibu
Ladies and Gentlemans, I'm happy to finally announce the
mAlibu
3on3 LAN Team.
This young soldier took 2nd place in the CCA 2015 Awards for most improved player, he played in some pretty decent teams over the years, and people also called him the
B2K LAN Destroyer.
Let me introduce you to:
KAPOT
This man won alot of cups online and has alot of lan experience, WON back to back 3on3 LANs, A Dutch Legend, one of the greatest from ET. Let me introduce you to:
iNsAne
The last beautiful man but definitely not the least. He has alot of Talent, and some LAN experience. In my eyes one of the most underrated players. Please Let me introduce you to the last player of our line-up:
mENACE
We can't wait to see you guys on the battlefield!
Kind Regards!
mAlibu eSports