•
24 Jan 2021, 15:25
•
Journals
Happy weekend everybody!
Tonight we will be, finally, bringing you some more ET action from the latest edition of the draft cup. Menace and Jinosta been grinding away putting together another sick cup and now it's time we step up our coverage of this said cup. This evening, starting at 18:45GMT/19:45CET we will be LIVE covering not one... But TWO games for you to enjoy. Unlike usual, Francis will not be joining myself, we have another brexiteer in Fantasy. It would be great if you could tune in!
https://www.twitch.tv/potty200
First game @ 18:45GMT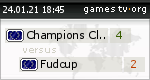 Will Seareal's Champions destroy Nismo's Fudders? Only time will tell.
Second Game @ 20:00GMT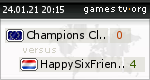 Can Seareal turn kApot into a guy who looks older than 15 or not? Will kApot bring out his suntan lotion? So many questions, so little time.
ALL QUESTIONS WILL BE ANSWERED TONIGHT. BE SURE TO TUNE IN!
CUBECAST Would love to hear your thoughts, suggestions and even shit posting on our discord server @
https://discord.gg/34zUjjvfQS
From the CUBECAST team. Thank you and we hope to see you tonight :)