•
23 May 2010, 11:29
•
Journals
Hi xfire
I havent' played et \watched ettv for a while & recently decided to watch several games of banda & eoh ( Russian m8s )
I 've made an avi & I appreciate some experienced
the-software-which-helps-you-to-aim's customers
players like kenta & AlexL will give their opinion about the tracking & switching between the targets ; is it natural, guys?
I am a noob @ making avis & you should better watch the replay
AND IT'S NOT A BUST AVI ) & I don't want to say that sunny guy cheats.
Update: reuploaded to ftp instead of rapidhare.
=>
Direct ftp link
Just kinda strange that recently, banda played vs nobrain 2 matches in a row & easily won.
@ last match @ order cup, even playing 5vs5 with mightybro, ( Banda's inactive leader ,who is lowmax @ aim :D ) nobrain was fullheld @ flag @ supply.
A couple of weeks pass & sunny who was nothing special @ those 2 games –
is now highest fragger & has highest light weapons @ 2 of 3 maps with krucio FUZZ & h8m3 playing. (& I heard h8m3 is high\ high+ aimer ! )
& 3 men sprees are np for him.
If you have a time – pls watch the replay & give your opinion.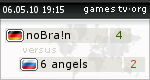 have a nice day
FORWARDUA <3