•
7 Dec 2009, 15:00
•
News
The third and last match week ended officially on Sunday. Nevertheless we have got some
wildcarded
matches which will be played these days. If you think that all is clear already, then you failed! There are still various
decisions
to be made.
Update:
match will be played tonight 22 CET. Read on for more details!
One hour later we have an equally skilled match with two european topteams facing each other.
ESL Winners!! face
nOu way. If
nOu take this win home they win their group and thus directly qualify for the playoffs!
ESL Winners !!
dialer
wiaderko
perfo
NuggaN
Meez
sNoOp
nOu way
zMk
Frag`Stealer
LavOd
joshua
filuS
Nonix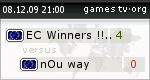 ESL Matchlink - ESL EU ET Mainpage
Statements:
filus]
MEEZ]
At
21:00 CET
the ambitious side of
pstarZ will face this years CB EC finalist
MASCULINE MANS who yet did not drop a single round in the running Major Series competition! A tought match for sure. We have prepared a short interview with
cherry
over at ESL
.
pstarZ Rise & Shine
cherry
sh1zzle
jago
joke
roxor
straf
MASCULINE MANS
ENSAM
kapaa
chmpp
Fel
squall
Sample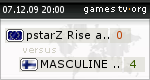 ESL Matchlink - ESL EU ET Mainpage
Statements:
kapaa]