•
18 Oct 2010, 15:32
•
News
As the groupphase has begun, there is an exciting game coming up this evening.
eZbash will take on
I.RTCW in the first groupmatch in group 3. Get your popcorn ready!
This will be a close game as
I have beaten
RIP last week in practice, while
RIP are one of the best clans since 2007 on RTCW 1.0.
eZbash have been playing together for more then 2 years with some time off last year and played the last cups and have a
rewarding past
.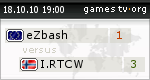 Demos (CLICK FOR THEM!)
[center]eZbash[/center]
[center]I[/center]
WolfTV ip: 87.117.196.150:27900

Maps will be:
Frostbite & Ice
You don't need a valid CD-Key to watch this game so you can easily view it
RTCW 1.0 Pack
Wolf TV
OSP
All Other Scheduled Games!
This is a good chance to prove to the 1.4 players that 1.0 is just the same as 1.4 as we have PB + OSP on the server. There are no differences!
Last but not least, 3v3 is sometimes even more exciting then 6v6. Watch the video to see why! If you want audio with the clip then view
the own3d.tv stream