•
15 Dec 2010, 19:20
•
News
EMS VII ET Grandfinal
The last big
highlight
of this years
competitive Enemy Territory
is just around the corner and it will be a very special one.
Team Dignitas and
The Last Resort have faced each other on 7 maps in three official matches within the last week. Their first encounter was a very close 3mapper which I believe many of you have watched.
Dignitas managed to save the win in that one. The second and third time they faced each other was the recently played CB EC Grandfinal, where
Dignitas were the big time favourites according to the GamesTV bets, not only becaues
TLR had to beat them twice. They still did so and walked away with a straight 8-0 victory -
ESL Newspost
Dignitas was left with the unpleasent second rank of this years Eurocup, but as chance would have it, they are given a second chance to proove who really is Enemy Territorys best. Both teams yet again have to battle it out, this time for the
ESL Major Series VII
title and the
400€
the winning team receives (loser gets 200€).
Will
TLR pull it off once again and beat
Dignitas twice in a row? The match will not be split so make sure to
tune in
and watch the last big match of 2010!
Dignitas
Anderson
drago
Lightning
Squall
olBaa
TLR
sqzz
R0SS
XyLoS
M1lk
mAus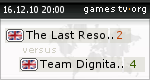 Shoutcasts:
TosspoT
#QuadV[/b]
Ati_ &
Wakizashi
[/b]
R0SS
:
Anderson
:
- ESL Newspost
- EMS VII ET Overview
- Matchlink