•
1 Jan 2011, 23:50
•
News
A new year has arrived and it is time to get the winter leagues started! All swaps are done, all teams are ready. Here we go with the
Winter Leagues 2012
! Several matches are already scheduled while other teams are still completing their line-up for this season.
This season we are going to try to provide far more coverage than we did in the last leagues that we hosted. You will see players giving out statements about the match, interviews, an admin spectating the match, after-match statements and for the first time,
match reviews
for those who missed the match and want a quick story about it.
In each week we will feature/highlight the most interesting matches in the
first division
(3on3 and 6on6). As we are always happy to receive feedback from players, if you have any suggestion regarding what match(es) should be featured in the next weeks, feel free to post in the
ESL news
. We'll try to provide a voting system for this matter as soon as possible.
The first match of the new year will call our attention to
6on6, Division 1, Group C
. The guys from
Splendid - Encrypt will take on
CashPlease. While the odds leave no doubt about the outcome of the match the statements sound a bit more encouraging.
Clown
: Well, we haven't played as a team yet, but we are quite active individually, playing mixes etc. Obviously, we expect to win, but I guess they are a good opponent, so it won't be easy. Player to watch is Jere, or miNd who will maybe replace him for this match!
danL
: I can say I'm satisfied of how our team has been developing for the past few months, we're getting better by the day and hoping to get to the stage where we can give a real hard time to the best teams out there, maybe just not yet ready to put up a challenge for cashPlease but we will surely do our best, at least to provide an interesting match to watch. I'm really hoping we can take one map and if there's a map to do such a thing then it's surely adler, so I'm gonna be very optimistic here and say it's gonna be 4-2 for cashPlease. As for the player to watch, from their team it's...
view more
CashPlease
Bl4d3
Clown
d4v1d
Jere
Night
sqzz
Splendid Encrypt
mental
hvK
diablos
m1ke
danL
eujen
Date:
Monday
Time:
22:15 CET
Maps:
Adlernest, Goldrush
League:

ESL Winter Leagues 2011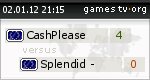 The opening match for the 3on3 tournament will take place right one day after 6on6 started. The match in
Group B, Division 1
features
randomZ and
supski. It might look as an easy match for randomZ, but surprises may occur!
IceQ
: I haven't been performing well lately, but heck maybe it's just me ! I expected this to be a tight match, my score prediction is 4-2 for...
view more
randomZ
mental
eujen
razz
Supski
fumble
darkrider
IceQ
Date:
Tuesday
Time:
20:00 CET
Maps:
Delivery, Supply
League:

ESL Winter Leagues 2011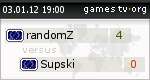 That's all for these opening matches.
We have received some questions from players asking how they can change the matchdate. Since we want to make it easy for players to reschedule their matches, we've made a little faq for them.
Click here to see how to reschedule WL matches
Also, please use the
match details
to inform admins if you played the match or when are you playing the match. We don't like to decide the matches, so keeping us informed about your match will avoid unwanted issues, for sure.
We would like to remind you that a player can play for
only 1 team
in each format. If we will discover players that played for more than one team in the same format, they will not be allowed to play in the next matchweek. Abusing this will cause more penalties for the player in cause.
FoaMeA on CF/IRC if you want to get deleted from the list.