•
15 Mar 2013, 18:55
•
News
It has been amazing cup so far as we have seen some epic matches throughout the entire cup. Starting from groupstage to playoffs. Without any further add-o we are about to see an another epic match in this cup. This sunday 17.03.2013 le Grand Finale in RtCW Fall Cup 2012, stream starts at
19:55 CET
! Readmore!
Epic is one word to describe sunday's match-up. Two titans facing each other in the finals and only one walks away alive and takes the bragging rights. Both of these teams have been undefeated in the groupstage and
one.soldier has been undefeated throughout the entire cup without a single loss.
overPowered lost their one and only game so far against
one.soldier. Now is their time to make payback. We shall see if overPowered will stand for their name or not.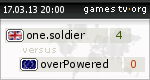 Grand Final will be streamed by our beloved caster team
Warwitch and
Sabo,
Nail,
DtS and
voice! There will be giveaways and some information regarding new upcoming cup. Currently we are working on the prizes (money, hardware), so some topics will include new cup aswell. Many different things before the game and maybe we will have special guests for you and we take in callers via Skype so keep your eyes and ears opened once your tuned in!
Stream starts at
19:55 CET
- so do NOT miss the pregame and be ready before the show starts!!!
http://www.twitch.tv/warwitchtv
Links :
RtCW Fall Cup page :
http://clanbase.ggl.com/news_league.php?lid=12928
Warwitch Stream :
http://www.twitch.tv/warwitchtv
OCLeague 3vs3 ladder page :
http://www.ocleague.com/competition/rankings.php?id=22&sub=info
Warwitch on facebook :
http://www.facebook.com/WarwitchTV
Contact @
#rtcw.wars
&
#ocleague.rtcw