•
20 Jul 2020, 21:31
•
News
The time has finally come for the final stage of this year Nations Cup 2020, with both
grand finals
being played in this week. We have had some amazing and great games as well as some underdogs coming quite far at the brackets.
Lets start it off with checking out who made it to the playoffs finals first:
Nations Cup 2020 Playoffs
Playoffs brackets can be found here
First team is
Netherlands
who knows no defeat yet in this tournament and has sealed the spot in the finals by winning all their group games and playoffs matches. They were placed in
Group A
where they finished at 1st place.
On their road to finals they managed to beat the following teams in playoffs:
UB Quarter Finals
Canada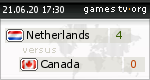 UB Semi Finals
Germany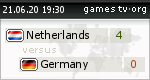 UB Finals
Finland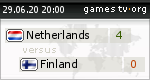 Second team that made it to the finals is
Finland
, they were placed in
Group A
as well and finished 2nd, just behind team
Netherlands
, as they suffered defeat against them. Their road to finals was a lot harder and had to put all their skills on test in order to make it so far, so lets see which teams they managed to beat before securing their spot in the grand finals.
As we can see, the only team that knows how to stop them is
Netherlands
as they suffered two defeats against them. Will the third time be lucky charm in favor of Scandinavians this time around and they make some big comeback taking home gold or will team
Netherlands
show their superiority yet again and finish this NC without a single defeat?
Grand Finals
Sunday, 26.07.20 21:00 CEST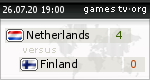 We will make sure that you will be able to watch the game either on ETTV or by watching one of your favorite shoutcasters, so make sure you are following the GTV page.
Nations Cup 2020 9-17th place playoffs
Playoffs brackets can be found here
At the same time main playoffs of Nations Cup were going on, we had a side tournament as well for all the teams that didn't manage to qualify for the playoffs, but were given the chance to battle their spots from 9th to 17th place and with that, providing them some extra games and even here we were able to view some amazing and very close games. At the very end, two teams managed to battle it all the way to final game where they will face each other to finish on respectful 9th place.
First team is
United Kingdom
, who managed to make it to the finals via upper brackets by beating the likes of
Portugal
,
Norway
and
Chile
.
The second team is
Chile
, who apart of losing to
UK
in the
UB Finals
, managed to secure all the other wins against
Sweden
,
Brazil
and
Czech Republic
in the
LB Finals
.
Since team
Chile
is coming from LB to the Grand Finals, they have to win twice against team
United Kingdom
and the first final game was already played yesterday where Chile managed to surprise UK by beating them 4:0.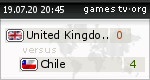 The second game of the finals (spot for 9th place overall) will be played today, so make sure you tune in for the first Grand Finale of both tournaments to enjoy some great shoutcasting done by our guys
koop
and
MerlinatoR
.
Will team
Chile
manage to show their dominance again or will team
United Kingdom
pick their winning spirits from
UB
win against them and claim the final win? Tune in to find out tonight!