•
27 Jul 2020, 21:29
•
News
Who would of thought that at the very beginning of this idea to bring another Nations Cup to ET would be such a big success and showing that we still have that activity to pull something like that and on what scale!
When i first started off with random one day cups over weekends it felt like that was the thing this game definitely needed and we have seen a lot of players making their come backs to enjoy yet again some quality games with their mates on the battlefields, but that was simply not enough and i wanted something more, something greater and i thought to myself, why not give NC a try and see how it would end up.
As crazy as the idea sounded, i was very surprised by initial response from community and fast forward we are at the end of succesful run of tournament with a lot of exciting games behind us.
The grand finale of the Nations Cup took place yesterday between
Netherlands
and
Finland
where even the third time this tournament, Finland was unable to win against the Dutchies and we had in total
375 viewers
spectating the game, which is definitely amazing number for ET at this time.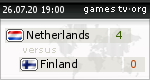 I believe that we can be happy with how this cup ran out and with the amount of games we were able to see, one of my favorites is definitely the finals of consolation brackets between
Chile
and
United Kingdom
where the South Americans came off on top, finishing in total on 9th place overall.
The final placement of all nations are:
Netherlands
Finland
USA
4.
Belgium
5 - 6.
France
,
Germany
7 - 8.
Canada
,
Poland
9.
Chile
10.
United Kingdom
11.
Czech Republic
12.
Brazil
13 -14.
Portugal
,
Norway
15 - 16.
Italy
,
Sweden
17.
Iceland
Playoffs brackets can be viewed
here
Playoffs for 9-17th place can be viewed
here
Group stage can be viewed
here
Special thanks goes to all participating nations, captains for organizing their games and pracs, our dear shoutcasters for spending their free time making the games even more exciting to watch and everyone else watching the games to make this game feel alive again.
What was your favorite match?
Who was the biggest upset and biggest dissapointement?
Was there any specific player that surprised throughout the tournament?
Which was your best or most clutch clip, frag of the games played?
Hopefully players and spectators enjoyed this Nations Cup and felt some nostaliga yet again that can ET bring, stay tuned in for some more exciting cups after summer!