•
17 Aug 2020, 16:20
•
News
It is time to settle a long-running rivalry as players from RTCW and ET face each in an epic RTCW show match. Those taking part include Maus, Toxic, Crumbs and many more.
When will it take place?
The show match is now cancelled permanently due to influences from a parallel universe.
Who is playing?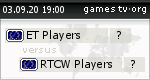 ET Players

mAus

toxic

dAv1d

abort

Kevin

adeto
RTCW Players

crumbs

dusty

Kris

syL

ozzmosis

zerom
What will be the format?
The following maps will be played (ab)
Beach

Radar

Adlernest

Village

Frostbite (Decider if required)

How can I watch?
Merlinator will be streaming the match live on Twitch
https://www.twitch.tv/merl1nator
.
How can I play RTCW?
You can find out how to install the game and fix common issues here
https://www.crossfire.nu/journals/156601/rtcw-troubleshoot-faq
Public servers:
104.194.9.163:27960

194.59.206.54:27131

A new league will be announced shortly with different skill divisions to account for all players and teams. Details will be posted shortly on crossfire.nu.
To learn the game, you can play gathers with 2 or 3 happening every night on the RTCW Discord
https://discord.gg/qkfpT6
. When ready for competitive action you can post in the recruitment channel to find a team, or even make your own!