•
5 Sep 2008, 21:42
•
News
Finally, I must say. But still this is and will be the final version of the
Stopwatch Battery project
. It took much time & efforts by several people of our community, but now it is everybodys task and choice to decide whether they want to see this map in leagues like
ESL , CB , ETL & Crossfire
competitions.
There were no major changes from beta4 to the final. This is because
Beta 4
prooved to be very well and was what I aimed for with this stopwatch version. I will sum up all changes that have been made from original battery right here so if you are interested in it click to enlarge ;)
A Beach Door has been added which leads into the back of the Flag Bunker and enables Allies to get an additional way to the top of the beach after destroying it by dynamite or passing it with a cover op in disuguise. Also a little break in the bunker wall lets axis defend the Beach Door a bit better than it would have been without.

The turning radar has been removed to give some more fps.

One of the mobile MG's has been removed.

The Commandpost now gives Axis and Allies the chance to spawn there and iniltrate / defend the Bunker complex from behind.

The Backdoor is now blowable by dynamite for Allies. But Axis still have the chance to reconstruct a wooden barrier after Allies have destroyed the Backdoor. This barrier can be destroyed & rebuilt by Allies & Axis again and again (by satchel).

The leaning bug at the backdoor entrance has been fixxed (thx to bani)

To avoid the unpassable spamm inside of the bunker Allies now have an additional corridor. The Bunker MG Nest was deleted and the new corridor exits right at the MG's old position next to Axis Respawn.

All railings inside the bunker have been removed.

Last but totally not least the Siegfried Gun wall has been closed. This may look crap in some peoples eyes but it made the biggest effor in the markable fps increase which everybody will notice when being on the beach.

Now if you want to give this map a try you can feel free to do this at the
YCN-Hosting.eu
Testserver. This company has been by my side since the Special Delivery task and I would like to thank those guys for this.
IP:
78.129.196.29:37000
Download the map
right here
!
Thx to
antman &
w0nd3r who did pretty much in the last time to push the project even more.
Showmatch:
The showmatch for this final version will take place soon. For further information follow the buttonlink over to GamesTV: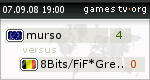 With this final newspost I will give
SW Battery
in your hands and focus on my next project which ist still to be announced. Stay tuned =)