•
25 Oct 2009, 12:41
•
News
A few teams have already saved their spot in this seasons
ESL Major Series Groupstage
to play for the
500€ prizepot
, but there are still qualifiers to go and only a few spots left!
The first of the four thrilling matches I wanna preview for you is
pstarZ Rise & Shine
vs
Zero Empathy turpoApinat, who face each other in the loserbracket of EMS Qualifier #2.
pstarZ rise & shine
xcN_
cherry
sh1zzle
jago
RoXoR
Bruceh
eddie
Zero Empathy turboApinat
repje
vokki
Juuti
jawa
kolibri
Slarto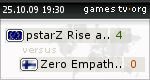 ESL Matchlink - ESL EU ET Mainpage
Statements:
adi_]

The next game looks a bit like
David versus
Goliath. Both teams dropped down into the loserbracket recently now face each other in order to get their spot in the groupstage. Does
David have any chance?
#reVeal.et
eiM
zhul
draqii
h3r0!n
scuba
shitty
Best players Belgium ever had
vila
lio
acid
snot
mAus
hayaa
ESL Matchlink - ESL EU ET Mainpage
cancelled
Statements:
Trixor]

asd, who chose to drop to the loserbracket by defwin, since they are certain to take this victory, face the dubious side of
Belgian Fraternity. What can one expect from this thriller? Again the winner of both will advance into the groupstage!
asd
errol
Baggiez
sAvage
Straf_
be
isEN
Belgian Fraternity
Gifted
uNDEAd
kroek
AL1
chizz6l
xPERiA
syL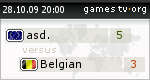 ESL Matchlink - ESL EU ET Mainpage
Rescheduled to Tuesday
Statements:
dNl]

A battle of two teams who both already qualified for the EMS Groupstage will take place a bit later at
22:00 CET
. But nevertheless it will be a great match where
YoYoTech FiF face
ESL Winners in the winnerbracket final of Qualifier #2. Check the table below!
YoYoTech FiF
ins
Jo0f
vaNq
siL
Worm
Jere
ESL Winners
dialer
wiaderko
sNoOp
perfo
NuggaN
Meez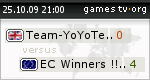 ESL Matchlink - ESL EU ET Mainpage
ESL Newspost
ESL EMS ET Mainpage
ESL EMS Mainpage