•
30 Dec 2009, 12:51
•
News
The Groupstage finished recently. We are now ready to start the playoffs and already have the first matches scheduled for today. We will see some of the best teams battle for glory and the
500 € prizepurse
in week one of our double elimination playoffs!
In the first match
ESL Winners
will face
e2 - european elite
who finished on top of a 3-mapper relegation match. Will
ESL Winners live up their name and go through to round two of the winner bracket?
ESL Winners
dialer
wiaderko
sNoOp
meez
perfo
european elite
s1LENT
Squash
fiskEn
frizer
crAsh
Sinnu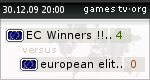 ESL Matchlink - ESL EU ET Mainpage
In match two of tonights
ETTV schedule
Dickheads
face the second relegation winner
Taggers
. Can
Dickheads continue their winning streak in the ESL or will
TAGGERS find a way to stop them?
Dickheads
Matias
drago
emorej
abort
TBA
TAGGERS
Lightning
Hope
Zak-
Clown
fuzz
lettu
mAus
zerender
ESL Matchlink - ESL EU ET Mainpage
Statement:
drago]
ESL Newspost
ESL EMS V ET Mainpage