•
2 Jan 2009, 17:02
•
News
We already saw
Dickheads
and
ESL Winners
succeed over
TAG and
european elite in the first two playoff matches. On Sunday it is time for the other four teams to determine upper and lower bracket teams!
nOu way!
face
Team Guarana
in a match that promises to be exciting. How will the new lineup of
Team Guarana perform versus last seasons 3rd?
nOu way
Frag`Stealer
zMk
FiLuS
Nonix
LavOd
Guarana
frozz
suVi
griim
lazio
kARn4J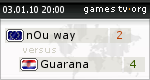 ESL Matchlink - ESL EU ET Mainpage
Statements:
FiLuS]

suVi]

Phantoms eSports
who recently joined their new organisation see themselves in a lot tougher situation. Facing last seasons second
mASCULINE_MANS
, who are on a winning streak for ages; do they stand any chance?
Phantoms
Wezor
Player
Gengis
EURUZ
palemki
Masculine Mans
Ensam
Vanhaomena
Squall
Sample
Fel
kapaa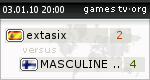 Shoutcast
zrkje
ESL Matchlink - ESL EU ET Mainpage
Statements:
Sample]

Player]

Also do not miss the first
match
in our new
5on5 Ladder
between
miAmi and
S'Agapo: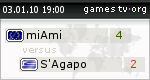 ESL Newspost
ESL EMS V ET Mainpage
ESL ET 5on5 Ladder Signup