•
31 May 2010, 17:04
•
News
More than 3 matches will be played in the EMS this week. This means that the
EMS Group Stage
will come to an end pretty soon! If you want to see what interesting matches will be played this week, just keep on reading. Also, don't forget to check out the
ESL Newspost for player's statements and predictions
[/b] and to see the status of the
wildcarded matches
.
The most intriguing match tonight is from
Group B
, where both teams must win no matter what in order to proceed to the playoffs. It is between
Colt 45
and
Sleeperz
. So far,
Colt 45
did not manage to get their first win in EMS since they lost their first match against
idle.ee
. However,
Sleeperz
managed to win with 4-0 against
Belgian Fraternity
, adding 3 points to their group standings, points that were highly needed before their big confrontation with the Group B leader,
idle.ee
. Don't forget to check out
what players from both teams had to say
about this match.
colt 45
kaMzZ
razz
twidi
emorej
zMk
Sleeperz
Euruz
griim
Eirik
suVi
Ati_
Date:
Tonight
Time:
21:00 CET
Maps:
Supply and sw_goldrush_te
League:

ESL EMS VI Group Stage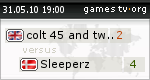 The
Belgian clash of giants is one of the matchweek's highlights. Both teams did not lose a single match till now but one thing is certain, one team has to lose now!
The questions are
: which team will lose? What will the final score be? You can also answer to these questions using the
comment section below
!
OVERLOAd
vila
zeto
mAus
chry
lio
Zero Empathy FiF
siL
Jere
Jo0f
vaNq
fostrum
Date:
07.06.2010
Time:
21:30 CET
Maps:
Special Delivery and Radar
League:

ESL EMS VI Group Stage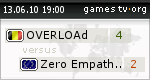 Related Links: