•
6 Jun 2010, 01:23
•
News
... but before we would like to invite everyone to spectate our final match in the CB OC Premier Playoffs 2010: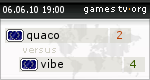 As many clans do, we fold before summer.
quaco
has existed since Octobre 2009 and has since then made itself a name throughout the community.
We certainly do not belong to the top teams. Nevertheless I would like to point out what great progress we've made as a team since
I and
blitz started the clan.
That's thanks to the following people:
The current
quaco
lineup:
Ti+es
evl
aniq
Kevji
eujen
But even:
blitz
Millan
Elvis
luis
seNti
pds
adeto
Finally, I'm proud to present a somewhat short summary of quaco until today (no frags):
Downloadable version
(recommended)
-
only 39 Mb
Mirror 1
[own3d]27586[/own3d]
Enjoy the holidays!