•
28 Jun 2010, 19:34
•
News
Monday
, you say? Two interesting matches will be played
today
in the
ESL Major Series Playoffs
! These are the last two matches from the first round of the
ESL Major Series Playoffs
. As usually,
statements
were released by team captains and players, so go ahead and check them out!
In the other 2 matches,
dignitas
rolled
nulli secundus
with 4-0, without having any sort of problems against them and the finnish superstar team,
ffive
, won by noshow since
Sleeperz
couldn't line up 5 players against them. What a shame for such a good team!
Two teams will have to fight for a place in the second round in the
ESL Major Series Playoffs
. These are
i dont know
and
vibe
. The winner of this match will have to face the one and only,
dignitas
. Tough match considering the fact that
dignitas
is still on a winning spree!
Some time ago, we knew them under the name of
Rockit
. Now they are called
i dont know
with an improved line-up. Will
frEeze`
and
crumbs
deliver for
idk
?
Joshua
, currently playing for
serenity
, was kind enough to give us a statement about the many questions that we had.
When asked about their match tonight against
vibe
,
Clown
, the team captain, had the following to say:
The other team that will play in this match has impressed us in their dramatic relegation match against
serenity-gaming
, winning and qualifying in the
ESL Major Series Playoffs
. They are
vibe
! They seem to have a very good teamplay and enough aim power to go further more in this competition. Their first test in the
ESL Major Series Playoffs
will be against
i dont know
. Let's see what
shitty
from
vibe
had to say about this match.
i dont know
Clown
frEeze`
ZaK
filus
crumbs
vibe
jago
joke
boNg
carlito
shitty
Date:
Tonight
Time:
21:00 CET
Maps:
to be decided
League:

ESL EMS VI Playoffs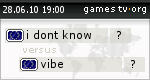 Tonight, we shall see a hell of a fight between
colt45
and
zeroE. FiF
. They fight for the last place that goes in the
Second Round
of the
Winner Bracket
, where the winner will meet the finnish superstars,
ffive
.
A team that seemed to be
just a mix
of known players at the beggining of this competition, has now reached the final stage of this competition, and they also plan on going a lot further in this competition.
Will they be able to do that?
We shall see tonight, in their first playoff match against
zeroE. FiF
. See what
KaMz
had to say about their plans and performance
here
!
One of the oldest team in the ET scene, first known by the name of
Friends in Force
, they recently joined
Zero Empathy
and they are now called
zeroE. FiF
. A very stable team formed only by players from
and
, prooved to be one of the best at
CC6
, and still have a very good online peformance. However, they are now without their main rifle, the belgian superstar,
Jere
. Will they be able to perform the same, even without
Jere
? Let's see what the community have to say about this:
Also, a
statement
was released by the new rifle of
zeroE. FiF
. If you want to know who he is, just click
here
.
As a final conclusion, we shall see a lot of action
tonight
. So stick around!
Good luck and have fun
to all the teams! May the
better
one win.
colt45
KaMz
razz
twidi
Ati_
emorej
zeroE. FiF
siL
fostrum
Jo0f
vaNq
secret rifle
Date:
Tonight
Time:
22:00 CET
Maps:
to be decided
League:

ESL EMS VI Playoffs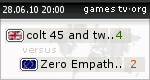 Related Links: