•
30 Jun 2010, 18:14
•
News
The second round will make its first step
tonight
, featuring the battle of two well-known ET titanz,
i dont know
and
dignitas
. Before we go down on presenting these teams once again, let me say first that the
ESL Major Series Playoffs
[/url] will continue in the following days with another
3 interesting matches
to watch. After this round, 2 of the 8 teams that are still playing in this competition, will leave us.
What teams are threatened to leave this competition
? You'll have to wait a little bit longer to get that answer!
Now back to the teams that will fight tonight for a place in the
Winner Bracket Semi-Final
. The underdog in this match is clearly
i dont know
, not because they are not performing well lately, but purely because their opponents are too good and popular. It's not enough to be good and popular to win a competition, so
i dont know
will try to proove that
tonight
. Asked how are they doing lately,
Clown
said:
Going to the other side, there are players that made
history
in ET, with the team that also had the same name years ago,
team-dignitas
. A team that is so popular, that has so many pocals, surely expects a win tonight. Will they be able to get it against the
ex-Rockit team
? The best engineer from
dignitas
gave the following answer:
Seeing these two statements, I can only say that this will be one of the best matches to spectate
tonight
. I don't know about you, but I'm gonna take a beer and some popcorn and tune in to this epic battle! Good luck and have fun to both teams!
i dont know
Clown
frEeze`
ZaK
filus
crumbs
Team-dignitas
Squall
karnaj
drago
Jakazc
Anderson
Date:
Tonight
Time:
22:00 CET
Maps:
to be decided
League:

ESL EMS VI Playoffs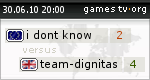 Tune in to listen to
Mashed on #Rockit.TV
[/b]
Once again,
we've asked a few players
to answer some questions related to this match tonight: Who do you think will win this match and why? And what player would you spectate?
Let's see
what certain players had to say:
Related Links: