•
4 Jul 2010, 13:05
•
News
Sunday
is the perfect day for the last match from the Winner Bracket in the
ESL Major Series Playoffs
. The
ESL Major Series
will come to an end pretty soon, this means we'll find out the lucky team that will win the big prize of
400 euros
.
Who will it be?
You could also predict the team that will win, using the
comment section below
!
2 matches
are still to be played in the
Lower Bracket
. 4 Teams are threatened to leave EMS if they lose, so they will give their best to remain in the fight for the big prize. If you want to know who are those teams, just click
here
.
Tonight
, 22.00 CET, location:
unknown
! Teams that will perform:
In the left side
, they are
, they won
NationsCup XIII
, their purpose is to roll every remaining team, they want to win everything because they can, with no further introduction, they are the one and only,
Fintastic 5
.
In the right side
, heavily reinforced by their swedish superstar,
NuggaN
, they seemed to be just a mix of players at the beggining of this competition, they reached the playoffs stage after defeating another
team in their releagation match, they plan on going far in this competition, they will play till the end no matter what, they are
colt45
.
There's just not enough action tonight. But wait, what is this? Two of the best rifles will fight for their teams. Do you guess who they are?
NO?!
They are:
Sample
and
Ati_
. Whoever will win this fight, will pass into the next round where they'll meet the legendary team,
dignitas
.
They both released statements regarding their
final standing tonight
. It's been said that you can
win
just because you have
faith
in you and in your team. Let's see what the two rifles had to say:
Not only the rifles but many other players from both teams released very
interesting statements
. You can check them out
here
. Also, don't forget to tune in to
Mashed
shoutcast,
tonight
.
These been said, good luck and have fun to both teams. May the best team win!
Fintastic 5
Ensam
Lepari
olBaa
Sample
Matias
colt45
razz
NuggaN
twidi
Ati_
emorej
Date:
Tonight
Time:
22:00 CET
Maps:
to be decided
League:

ESL EMS VI Playoffs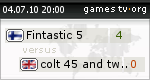 Tune in to listen to
Mashed on #Rockit.TV
[/b]
Related Links: