•
5 Jul 2010, 19:41
•
News
The first match from the
Lower Bracket
will be played tonight, in the
ESL Major Series Playoffs
. These teams will have to give their best to remain in this competition and to achieve a big performance by getting in
top 3
. The other match from the Lower Bracket was forfeited by
nulli secundus
, being very inactive and because they were not able to line up 5 players. Tough luck!
The first team that is eager to win this match is
zeroE. FiF
. They made a great achievement at
CC6
by entering the top 5. Since then, they are performing very decent, but they promise to surprise us tonight. If they can do it or not, we shall see. Here's what one of their players had to say about their latest performance and about their opponents:
The second team involved in this match is
Sleeperz
. They had just bad luck by meeting
fintastic 5
in their first match, but they want to get as far as possible so they have to win, tonight! Asking
Lazio
about their match from tonight, he said:
Don't forget to tune in to
Mashed
shoutcast,
tonight
. We need more shoutcasters like him, so tune in and support him. Thank you!
zeroE. FiF
siL
fostrum
Jo0f
vaNq
Flashy
Sleeperz
Griim
Eirik
Tardler
suVi_
Lazio
Date:
Tonight
Time:
22:00 CET
Maps:
to be decided
League:

ESL EMS VI Playoffs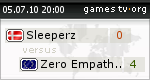 Related Links: