•
15 Jul 2010, 15:50
•
News
It's time for the best match from the
ESL Major Series Playoffs
. You all know the teams that will perform tonight, that will fight for a place in the
Grand Final
. Both teams want to win, as they can earn over
200 euro
in just a couple of minutes. We all wonder if the domination of the legendary
team-dignitas
stops tonight, against
fintastic 5
. We shall find out soon!
For this match only, every player from both teams, has given a statement. You can see in these statements how are things going in each team, what is their moral level and how much trust do they have in their team, so be sure to check them out
here
.
Team-Dignitas
They had different names throughout history, but this is the one that made them pure legends. No matter under what name they were performing, they were beating everyone. Is their secret in their line-up? Do you remember their first line-up which gave an ET lesson to all the teams at that time?
Oldschool players might remember:
senji
,
urtier
,
r3vers
,
Night
,
Reload
,
Jakazc
.
These 6 fellows managed to do what no team was able to do till now: dominate the ET scene for a long period of time!
However, they have a new line-up, with only 2 players from the old team, that managed to dominate the scene. With a short math calculation, we realise that they are not, anymore, the core of the team, with 3 new players to complete their line-up. We could have been sure that they will still dominate the ET scene, if their legendary rifle,
Night
, was playing tonight. If all seems lost, let me remind you that they are still dominating this scene, and their latest aditions seemed very good. Here's what one of their new players had to say about this match:
Performance so far in the ESL Major Series
4-0 win against Belgian Fraternity
- 16th May 2010
4-0 win against colt45 and 2 zig zags!
- 19th May 2010
4-0 win against Sleeperz
- 6th June 2010
4-0 win against nulli secundus
- 27th June 2010
4-2 win against i dont know
- 30th June 2010
Games Played:
5
Games Won:
5
Games Lost:
0
Winning Percentage:
100%
Fintastic 5
They are probably the only ones left that can compete with the ET Titans, that actually has a chance of winning against them. Their line-up is formed by the best players that Finland has. But is that enough?
They are very lucky, some might say, looking at their performance in the ESL Major Series. Lucky or not, they managed to get to this phase of the competition, and now they only want to add a new achievement in their account. However, they will need all the luck in the world to do this, tonight, as they will be face to face with one of the best aimers from Estonia.
Throughout the ET history, I can remember only one team that had a line-up formed by players from only one country that actually had a chance to defeat the legends. And that is the controversial team,
OVERLOAd
, which also had some interesting online performances, but always losing against the legendary
team-dignitas
. Will it happen again? Will a team formed only by players from one country fail in front of the titans? Leave your interesting opinion using the comment section below.
In the meanwhile, let's see what one of the best
rifle had to say about tonights' match:
Performance so far in the ESL Major Series
4-0 win against serenity-gaming!
- 9th May 2010
4-2 win against 1stCav
- 6th June 2010
4-2 win against nulli secundus
- 13th June 2010
1-0 win against Sleeperz
- 27th June 2010
4-0 win against colt45 and 2 zig zags!
- 4th July 2010
Games Played:
5
Games Won:
5
Games Lost:
0
Winning Percentage:
100%
Team-dignitas
Squall
karnaj
drago
Jakazc
Anderson
Fintastic 5
ENSAM
olBaa
Matias
Lepari
Sample
Date:
Tonight
Time:
22:00 CET
Maps:
to be decided
League:

ESL EMS VI Playoffs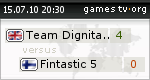 Predictions
R0SS`i
: Dignitas will take it, 4-2, because they have been playing more than f5. f5 will take a map cos reload/anderson/hendick aims like a bf2 player.
ovr-Jere
: Dignitas seems in shape last weeks, while Fintastic5 looks more vurnerable. When the fins perform on their top level I think they would take it, but for now I say 4-2 dignitas.
twidi
: I would say that dignitas is the favourite to win as they should be more prepared and in a better form than F5 at the moment. Still, I'm predicting a pretty close game with both teams winning their map and dignitas taking a 4-2 victory after decider.
Clown
: Dignitas aren't a clear favourite here, I'd even say f5 will take it with relative ease. It just feels like dignitas aren't ready just yet, unless f5 are emo mode because of inactivity etc. Score: 4:0 f5 wins.
Winghaven
: Dignitas are in great shape right now, even though they are without Night, they've already showed it against the match they won vs impact pretty easy. So my guess is 4-0 dignitas.