•
14 Aug 2010, 22:53
•
News
The last match from season VI of the ESL Major Series is about to start, seeing two of the best teams that managed to get into the Grand Final without many problems. As for the prizes, there are a lot of money that both teams could get. Winner of this season will get
400 euros
and the 2nd place will receive only half of it, 200 euros. Who will it be? Leave your interesting opinion using the comment section below!
Second match
will be played tonight, at 20.30 CET. In the first match,
fintastic 5
has won with 4-0, after giving dignitas a tactical lesson on goldrush and after a close call on adlernest. The final encounter will be tonight, don't miss it!
ETTV IP's (thanks to Anaconda`GTV, you're great!):
188.40.33.125:27960

188.40.33.125:27970

188.40.33.125:27980

188.40.33.125:27990
Fintastic 5
ENSAM
olBaa
Matias
Lepari
Sample
Dignitas
Anderson
drago
uNDEAd
Squall
Lightning
Date:
Tonight
Time:
20:30 CET
Maps:
to be decided
League:

ESL EMS VI Playoffs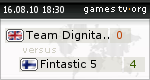 On a short note, there were many statements released for this epic match, so please check them all out
here
. Also, for the polish players, the match will be shoutcasted by
sokl
, so don't forget to listen to him while you watch this epic battle! As for those who will want to listen to a decent english shoutcast, well, just pray for Owzo or Mashed to be online tonight! We need you guys, be there!
Fintastic 5
Here they are, in the Grand Final! They managed to get into it after beating their opponent from the Lower Bracket Final,
i dont know
, with 4-0. But now, they must face the best ET team in the history, not once, but twice, if they manage to win the first match. Tough match, they need all the luck that they can get. There are players in the community that have confidence in them, but there also players that think they don't stand a chance. All that remains now is to see who was right, in just a couple of hours!
Let's not forget that they already met their opponents in the Winner Bracket, where they lost after only 2 maps. Is it payback time? Asked about this, the following player from
fintastic 5
had to say:
Matias
: It's payback time! Dignitas going down with our newest special tactics that were made just against dignitas. Dignitas is performing as you expect them to perform, ESL FINAL. Both teams are full of key players so pic your favorite! Hard to say who will win since neither of the teams prac at all, that makes it even more interesting!
Road to the Grand Final
4-0 win against serenity-gaming!
- 9th May 2010
4-2 win against 1stCav
- 6th June 2010
4-2 win against nulli secundus
- 13th June 2010
1-0 win against Sleeperz
- 27th June 2010
4-0 win against colt45 and 2 zig zags!
- 4th July 2010
4-0 loss against dignitas
- 15th July 2010
4-0 win against i dont know
- 9th August 2010
Games Played:
7
Games Won:
6
Games Lost:
1
Winning Percentage:
85,7%
Dignitas
They managed to beat everyone in this season of ESL Major Series. What a record, I might say. Will they manage to keep their winning spree after this match too? It's an objective that they have in mind. But let's not forget that this is no ordinary opponent. The finnish are prepared to give them hell tonight, in a match that announces itself as being very exciting!
However, they made some slight modifications in their line-up since
karnaj
went on vacation after AEF, so they needed a new 5th. Who did they get? One of the new belgian talents,
uNDEAd
. Some say he's even better than karnaj, some think that this was the worst choice by far, but all in one, we shall see tonight!
dignitas/drago
: We look forward to finally finish this season and are very eager to win this tournament. Both teams are equally skilled so I guess it will come down to individual actions - this will be very thrilling to say the least. I want to thank everyone involved in organizing and covering this event and personally I'd be happy to see another EMS season for ET after this. GL and HF to everyone watching and playing.
Road to the Grand Final
4-0 win against Belgian Fraternity
- 16th May 2010
4-0 win against colt45 and 2 zig zags!
- 19th May 2010
4-0 win against Sleeperz
- 6th June 2010
4-0 win against nulli secundus
- 27th June 2010
4-2 win against i dont know
- 30th June 2010
4-0 win against fintastic 5
- 15th July 2010
Games Played:
6
Games Won:
6
Games Lost:
0
Winning Percentage:
100%
Fintastic 5
ENSAM
olBaa
Matias
Lepari
Sample
Dignitas
Anderson
drago
uNDEAd
Squall
Jakazc
Date:
Sunday
Time:
21:00 CET
Maps:
to be decided
League:

ESL EMS VI Playoffs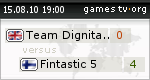 Predictions
emorej
: Well let's list some facts, dignitas won aef without any problems but they just lost to impact and ffive couldn't be there . I think they didn't care much about ec anyway, top teams nowadays favor ems over ec and they played without karn-boy & against mAus.
In the other hand, ffive couldn't prac much lately aswell as some of their teammembers were at aef aswell. So to conclude I'd say it will be a tight match, probably a good match to spec. If I had to predict the score, I'll go for a 4-2 for ffive!
XyLoS
: Will be a close match between 2 great teams, my prediction goes to fintastic5, if they play together they'll get it, 4-2
twidi
: I think that this should go for dignitas. Fintastic5 has an amazing lineup, but from what I know they haven't really been playing that much. Dignitas had a great run at AEF and I don't see why they couldn't keep it up here. 4-0 or 4-2 for Dignitas.
Sheep`
: Given the slight improvement dignitas have through the loss off karnaj and acquisition of uNDEAD, yet still losing to a reshuffled impact side, I'd say this is going be somewhat of a steady victory for F5. Those Fintards really know how to play as a team - with a lot of help from 3 of the best medics ET has witnessed, olBaa, Matias and Lepari. They'll bring home the bacon!
rockit`zerender
: digninerds will win 4-2.
aphesia
: I think Dignitas will win, it should be a close game. However I believe Fintastic Five didn't prac for a long time, and on the other hand Dignitas who played really strong at AEF has a big advantage over F5.The Finnish side need to win twice over Dignitas which I don't see it happening, Dignitas will take a 4-2 victory. Player to watch: Drago.
wiaderko
: Good players, but ensample duo will deliver.
R0SS`i
: Dignitas will win another thrilling encounter. I believe F5 will win the 1st game 4-0, but Dignitas will pull back the second game and win that 4-2. Its not often you see them lose 2 games in a row.
Clown
: If reload can step up and start hitting someone, then dignitas has a chance, otherwise jaka won't be enough to carry! I think they'll get themselves together though and win with 4:2.
bF`Gifted
: I hope this game will be as exciting as dignitas their last game. But I think dignitas will be able to pull this off with a 4-2 win. Players to watch olbaa & squall!
filuS
: As we could see few weeks ago, matches between these two teams are always thrilling and hard to predict even when they are one right after another. But if I should bet on someone, this time I would go with dignitas, since Mr.Anderson is nerding rolls really hard lately. :)
slajdan
: I am pretty sure fintastics will take it 4-2 or even 4-0 if dignitas played as "average" as they did versus impact yesterday. Dignitas is missing their current keyplayers, tactical mastermind Night and damagedealer karnaj, but then again all dignitas lineups has always been strong when there is money involved. My conclusion is based on what looks to be the downfall of the dignitas domination era.
wEAAKKK
: I'd bet all my money on dignitas, eventhough I don't know how they perform with karnaj / undead as additions since I haven't seen any of them playing at all since ~ 12 months :D