•
7 Sep 2010, 11:23
•
News
A new
ESL Major Series
season has started last night, that is already passing through the qualifiers stage. 32 teams were selected for the qualifiers that were seeded according to several aspects such as recent achievements, activity, stability etc. Only 16 teams will pass in the Group Stage, so the battle will be intense. Don't forget about the unique prize purse for this online competition:
750 euros
. Let's see the 32 teams that will fight for a place in the
ESL Major Series VII Group Stage
.
Qualifier 1
Team Dignitas
Team Ictus
reprezent
blurred vision
inteRaction
myRevenge e.V.
Vice Gaming
Lost Soldiers
Qualifier 2
i dont know
Sleeperz
1stCav ET
two4two
stronger than hate
high.five
no Teamplay
noBra!n
Qualifier 3
Impact Gaming
Zero Empathy
Team Speedlink
baserace.et
energy-WAVE
WinFakt!
In7 - eSports ET
Back To Kill
Qualifier 4
close but no cigar
Aero Gaming
Gamerz Connexion
SQUAD.EE
Savak
SNOGARD Dragons
WcK
Frogs of War
These are the teams that will fight to get in the next stage of the
ESL Major Series VII
. If you want to see the tournament tree for each qualifier, click
here
. Also, don't forget that we have
a tight schedule
so defwins may be granted. Check below for further details, the mappool, the schedule and already played/upcoming matches.
Modus: 5on5 SW, Double Elimination, free map choice

Groupstage: Top 4/Cup will join the EMS VII Group Stage (16 teams)

There are no wildcards in the cups! Defwins may be granted!
Radar

Sw_goldrush_te

Supply

Adlernest

Bremen_b3

Sp_delivery_te
Round 1: Sunday, 5th September - Sunday 12th September

Round 2: Monday, 13th September - Sunday, 19th September

Round 3: Monday, 20th September - Wednesday, 22nd September

Round 4: Thursday, 23rd September - Sunday, 26th September

Round 5: Monday, 27th September - Wednesday, 29th September

Round 6: Thursday, 30th September - Sunday, 3rd October
Played Match
- The first match of the Qualifiers was played last night, seeing a brand new zero Empathy team formed only by skilled players holding their grounds against a decent team such as In7 eSports. Nobody expected less from this match than the win of the new Zero Empathy team. Replays are available if you want to see them in action.
Zero Empathy
Jinosta
razz
numeric
Frag`Stealer
zMk
In7 eSports
Pius
th0rdis
nORAs
despero
viC
Played on:
Monday
Time:
21:30 CET
Maps:
sw_goldrush_te, adlernest
League:

ESL EMS VII Playoffs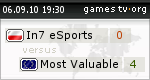 Upcoming Match
- A new key player for Team Dignitas, but is it enough to re-gain their unbeatable status? Their opponents will try for sure to take advantage of their weakness, so tune in to see whether Dignitas is back in action or if it's time for a new team to dominate the ET scene.
Team Dignitas
Anderson
drago
karnaj
olBaa
Jakazc
Lost Soldiers
Lango
caTchEr
snip0
knoche
bomi
Date:
Thursday
Time:
21:00 CET
Maps:
to be decided
League:

ESL EMS VII Playoffs