•
18 Sep 2010, 15:41
•
News
With the summer break coming to an end,
chEWz
and a few other players decided to give Enemy Territory another shot, for the Upcoming ESL Major Series, Clanbase EuroCup, and possibly any upcoming LAN events.
The team has only recently been put together for a few weeks, but with only a small amount of time to practice, they have shown clear potential competing VS somewhat top teams. With some old faces, and some new, we have managed to put together a team with a stable mixture of players in which we intend to work and develop into a consistent respectable team.
Without further add, I present you with the
Fuzion.ET
lineup:
vANQ
chEWz
siL
lio
Sinnu
jalo
PrydZ
They are currently playing in the Current EMS season, and looking forward to play in the Upcoming EuroCup and future LANs.
On
Monday
night, around
21.00 CET
, the battle for a place in the ESL Major Series VII Group Stage will start!
Fuzion.ET
will try to prove what they are capable of in their first official against a decent polish team. Don't forget to tune in to see the outcome of this match!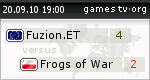 You can support them at:
#Fuzion.ET
Thanks for your time and support, and thanks to
body
for the banner, we hope to surprise in the upcoming season! :)