•
19 Sep 2010, 13:34
•
News
After the first round, we got a picture of the teams that could get in the
ESL Major Series VII Groupstage
. However, this round will tell us for sure the first 8 teams that will qualify into the Groupstage, but also the first 8 teams that will say farewell to this season! We already know the name of the first two teams that left EMS VII,
savak
and
baserace.et
, due to internal and line-up problems. Stay tuned to see which are the other 6 teams that will be eliminated but also the 8 teams that will qualify in the EMS VII Group Stage.
14 matches will be played in this second round of the ESL Major Series VII Qualifiers. Sunday will be the night with the most EMS matches, 8, followed by Monday with 4 and Tuesday with 2 matches. I must add that this will be the final round when we'll have 16 matches being played in just 3 days, so tune in to see them all, as the fight is intense in all of them.
*Reminder*
After this round, the Lower Bracket Matches will need to be played till Wednesday, as you might know, this is the short week from our schedule. So we advise teams to try to schedule their match as soon as they find out their opponent in the Lower Bracket. Thank you for understanding.
*UPDATE *
ECWinners, also known as ESLWinners, have just been added to the ESL Major Series, season VII. They will start from the Lower Bracket in Qualifier 4, and their first opponent is Back 2 kill, a decent polish team. With their current line-up, they look promising and we are expecting them to qualify in the EMS VII Group Stage. These been said, tune in on Tuesday to see their first official match!
b2k`l4z
: Firstly, I'd like to say that I was disappointed when I've heard that baserace team wasn't able to play against us. Fortunately, a team which could replace them has been found. We're training intensively, but I think it's still not too much in order to defeat a team such as ESL WINNERS. ESL WINNERS consists of many stars, achieving a good result will be really hard task to do. But who knows, maybe the luck will be on our side. We'll try to play as good as we can.
ESW|dialer
: Our first prac since ESL EMS V will be at monday so hard to say how good we are atm as a team but i hope we didnt forget how to play and win as we did before ;). Can't say anything about our opponents since i simply dont know any of them and didnt saw any of their games. I expect this match to be more of a test than a challenge for this team and players that were inactive for some time , about score 4:0 for us but i hope they will put a good fight =).
ESLWinners
dialer
wiaderko
perfo
teKoa
chry
Back 2 kill
slash
l4z
Abject
kuba
w1lko
Date:
Tuesday
Time:
21:00 CET
Maps:
to be decided
League:

ESL EMS VII Playoffs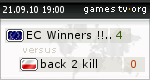 21.00 CET
! It's time for one hell of a match between two teams that are fighting to get a good seeding for the ESL Major Series Group Stage. This may not be an eliminatory match, but it sure has a high stake as the winner of this match will qualify in the Group Stage. Who will it be? See for yourself, tonight!
*UPDATE*
Match has been moved to Monday, 21.00 CET, since zeroE couldn't fill in 5 players. Don't forget to tune in to see this epic battle!
SL|sTOWNAGE
: We are looking forward to this exciting match against zeroE, they performed really strong the last days and are highly motivated like us. I think it will be an intense and close match which will be decided by the better teamplay. After our run over Winfakt, we will take this 4:2 in the end.
zeroE`Jinosta
: We've played about 2 hours, maybe, each day apart from weekends and always seem to be improving. I hope we can take this game 4 - 0, but it will probably be 4 - 2 for us.
Speedlink
duKe_
Bl4d3
FLoPJEHZ
sTOWNAGE
potter
Zero Empathy
Frag`Stealer
numeric
zMk
Jinosta
razz
Date:
Monday
Time:
21:00 CET
Maps:
to be decided
League:

ESL EMS VII Playoffs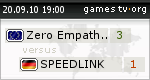 The second eliminatory match that will be played tonight is between the Czechs and the Germans. The two nations may have had some other battles, but surely not in ET. Will be interesting to see which teams will manage to win, since both of them are currently having problems in finding a 5th player.
iR|denton
:We've been playing badly for few weeks and change had to come. We are testing a new guy in our ranks at the moment and so far so good. We had many encounters with Lost Soldiers over the time and they are definitely one of our favourite opponents. This match is all or nothing for both of the teams but I hope we will win this one no less than 4:0 and reach another round.
LanGo
: no statement released.
inteRaction
derek
denton
milhAus
Green_Clon
TBA
Lost Soldiers
LanGo
ducis
snip0
knoche
bomi
Date:
Sunday
Time:
21:00 CET
Maps:
to be decided
League:

ESL EMS VII Playoffs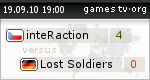 It's time for an exciting match from the Lower Bracket. Both teams will try to release their fury because if they lose this match, then it's all over for them in this season of the ESL Major Series. Will it be a close match or not? I bet it will since the battle will be intense and till the end!
kapaa
: Our performance is not at the best level at the moment and later we will see how well we are able to perform. About our opponent, I have no clue, never heard of them. I expect 4-0 for us.
nB|Aggro
: I think we are performing very well atm, against idk we looked very good on delivery. I think our opponents are strong but not half active as we are. So it's going to be an interesting match and I think we can surprise.
noBra!n
Aggro
Bio
Sunny
waYne
terrAy
sth
frozz
rimi
komar
cls
kapaa
Date:
Sunday
Time:
21:15 CET
Maps:
to be decided
League:

ESL EMS VII Playoffs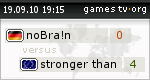 This match may not be an eliminatory one, but the teams are extremely motivated to get the win and qualify for sure in the Group Stage. Who doesn't want that, after all? The polish team may be the underdog in this match, but they will surely try their best against their opponents.
high5|syriusZ
: I expect 4:0 for Rage since our dear cl dnl is away for this weekend and we have to play with klejf who is low+max. Moreover we didn't pracc much due to winq's problems with alcohol but we're gonna do our best to make it an even match.
Kamz
: I think we're playing kind of good although we lost two matches in evu cup. With some luck, we could have taken Squad.ee and didn't really prac the whole of this week, so no surprise to lose to Aero. As for our opponents, I don't really know much about them but I seen that they picked up some impressive wins as underdogs so we will definetly take them seriously.
high.five
klejf
syriusZ
stexx
winq
ryzu
RAGE
Lazio
griim
Kamz
Eirik
hell
Date:
Sunday
Time:
21:30 CET
Maps:
to be decided
League:

ESL EMS VII Playoffs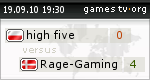 No more beer? Go get some fast because the next match is about to begin and it will surely get interesting seeing a team that played in the Group Stage of the last season of the ESL Major Series trying to overcome a decent team but with an excellent in-game leader such as
wEAK
. The fight will be intense as this match is also eliminatory and one of these teams will have to say farewell.
noT|annajr
: Well, to have a realistic view on this game, our team isn't too much of a challenge for the lineup of 1stcav. We performed pretty well lately, but obviously noTeamplay isn't designed to become a topteam whatsoever. Should be a pretty easy game for them (4-0).
Cav|errol
: We are playing like shit, I don't know anything about our opponents but I expect an easy win. Score: 4:0 for us.
1stCav
Dolar
boski
voiler
miks
errol
no Teamplay
annajr
wEAK
powelcheck
TimeN
t0MMy
Date:
Sunday
Time:
21:45 CET
Maps:
to be decided
League:

ESL EMS VII Playoffs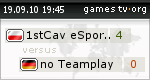 The heat is reaching their maximum level as both teams that will battle tonight have only one objective: victory. Will the ex-Highbot team perform as they used to back in the their old days, or will saKen&co teach them a lesson of aim and tactic? I don't know what to expect from this match, but I'll surely tune in to see the outcome!
ICTUS|monkey
: Lately, we are playing "decent", I guess, but we are lacking or practise time due to me being at school and only back around 22:30 CET and smirzz who moved to new house. I don't really know what to expect from stars but I mean, I've played against old hummel's team and I kinda know what to expect from them. By looking at the players, I can say that we have 80% chance of winning. The only player I hate to play against is Fireball, but it's ok, he will do the John Rambo and get full like always. Expecting 4-0 or 4-2 for us depending on map.
STAR\asmogan
: We are very motivated after our successful first round. Everything has to evolve (which is quite common for a new team) before we can say what we're going to achieve in our future/next match but we are very confident because we got some few experienced players in our lineup including our recent recruitments s1lent (ex ictus) & criatura. The match will be pretty much thrilling, but my assumption is: 4:2
Team Ictus
saKen
joshua
Boss
crook
monkey
Star*
humM3L
FiREBALL
asmogan
caTchEr
criatura
Date:
Sunday
Time:
22:00 CET
Maps:
to be decided
League:

ESL EMS VII Playoffs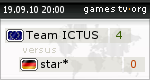 There's not much to say about this match since most of the players expect an easy win for dignitas. However, the laggy polish players will surely try to take advantage of their internet connexion and overcome the titans. Will it be possible or not, tune in to see tonight, at
22.00 CET
.
dignitas\drago
: This Sunday we'll be facing blurred vision in our 2nd EMS match. I only know a few of their players, but I am confident they'll be able to give us a good challenge. Due to vacation and other occurrences we were not able to practice in the last few weeks, but with our newest addition I am convinced that we'll take this match home. GL and HF to everyone watching and playing.
zeroE`Estaloth
: Well, dignitas are a top notch team so it's not going to be close. However we'll try to put up as much resistance as possible. So if you were curious about hunter's current perfomance, you wouldn't like to miss that ;D
Dignitas
drago
Anderson
Jakazc
karnaj
olBaa
blurred vision
hunter
edain
saqu
Estaloth
rumek
Date:
Sunday
Time:
22:00 CET
Maps:
to be decided
League:

ESL EMS VII Playoffs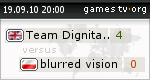 The last match from tonight is one of the most balanced matches that you'll see during this night. The estonians, helped by the impressive
walle
, will try to teach toxic's new team how this game should be played. On the other side, we see a lot of good players, on paper, but the interesting part to see is how they are performing as a team. Don't miss this match and save some beer for this one, because it will be extraordinary and very close!
manttt
: Well, the lineup seems good on paper, but I don't know if they are praccing and how they are performing, I don't know what to expect from this game. I have no idea how this match will turn up, but I guess we are the underdogs as usual.
toxicccccc
: I can't exactly answer any questions simply because... I don't have an answer for them. The point is that it's too early to answer anything, just because we are too new.
Squad.ee
mant
Jyrkz
subbi
rAUL
walle
close but no cigar
abortji
M1lk
gifty
syK
toxic
Date:
Sunday
Time:
22:00 CET
Maps:
to be decided
League:

ESL EMS VII Playoffs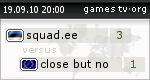 Whether
mAus
will deliver again or not, that is to be seen on Monday night, since he was not able to play in the first qualifier match, that Impact barely won. One thing is for sure, both teams will try to surprise their opponents with new and improved tactics so don't forget to watch this match, as it will be very exciting!
R0SS`i
: Well, the last match which we played, we won 4-0, but it was nothing more than a poor performance. With mAus being on holiday we haven't pracced in 2 weeks so we are very rusty. If we get a few pracs in before the match I believe we will win 4-0, if not 4-2 but e-wave is a very strong and underrated team.
anim
: Well we've struggled initially but more or less now I'd say we have our shit figured out. We have won our last 5 offis and I think we are playing well together. Impact is a tough team though, 2nd place at antwerp and with the latest addition of mAus they will be tough to beat - I expect the outcome to be in their favour however maybe because of their lack of practice we can steal a map.
energy-WAVE
rockstar
Nonix
anim
fostrum
Rizkk
Impact Gaming
R0SS
sqzz
XyLoS
mAus
hayaa
Date:
Monday
Time:
21:00 CET
Maps:
to be decided
League:

ESL EMS VII Playoffs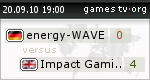 Second exciting match from Monday night, is between the 3rd place holder of the last EMS season and a newly formed team that looks promising and will try to give their best in order to win and qualify in the Group Stage. Don't miss this incredible match, as both teams prepared a lot for this battle.
Kevin
: Well, two4two has been performing quite unstable lately, one day everything clicks and we play very well, the next day nearly nothing clicks and we play far below our normal skill level. Having that said, I think that we have a chance at beating IDK if we perform well. They're a team like there are 20 out there atm, good but nothing special, although at the moment I'd say they are the favorites to win it. I'd say 4-2 for IDK, and if we have a good day then I'd say 4-2 to us.
Clown`
: We have been practicing alot lately, seemed like we are doing fine, some maps still need work but overall im satisfied with our play. 242 have pretty good players, but I don't know how active they are so I can't say much about them. I think it's gonna be a close game, hopefuly we win it. I guess the score will be 4:2.
i dont know
Clown
frEeze
ZaK-
Filus
crumbs
two4two
Sheep
Iron
Stuka
Kevin
Oxy
Date:
Monday
Time:
21:00 CET
Maps:
to be decided
League:

ESL EMS VII Playoffs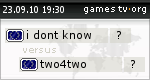 They got a chance of playing this season of the ESL Major Series after seeing SNOGARD dropping out because of the cheating accusations that occured in one of the first round matches. They'll try to test their strenght against a decent polish team that performed quite well against tough opponents. Let's hear what they have to say about this match.
Prydz
: The team hasn't pracced that much yet, but the few pracs they already played went quite nice. With the addition of lio the team will become much stronger. I think it will be a 4-0 win in the EMS qualifier, tbh I only knew michat from frogs.
FoW|Bl4nko
: no statement released yet.
Fuzion.ET
chEWz
jalo
siL
vANQ
Sinnu
Frogs of War
Bl4nko
boObje
dzordzo
michat
mXm
Date:
Monday
Time:
21:00 CET
Maps:
to be decided
League:

ESL EMS VII Playoffs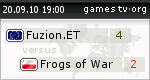 The polish community surely has enough decent teams that can compete in this competition, and the following match consists one of those teams. However, their opponents are looking strong on paper and they'll surely try to overcome them. Not to worry though, both teams will give their best in this match so expect a lot of action.
In7-th0rdis
: We are aware that our opponents are a very skilled team, but we'll definitely try to make this match harder for them. A won map will be good enough for us.
WinFakt|MOTiF
: It's hard to say how WinFakt is performing. The last weeks they weren't performing well. It's a new team so the basic lines are missing. (if I say this good):P But if we pracc a lot we can become good. We got a good team with good players. But the most important thing and the strong side of this team is "fun". About the oppo In7,to be honest I don't know anyting about them. We need to win this match 4-0.
WinFakt!
Player
spho
slajdan
StrAf
isen
In7 eSports
Pius
th0rdis
nORAs
despero
viC
Date:
Monday
Time:
21:30 CET
Maps:
to be decided
League:

ESL EMS VII Playoffs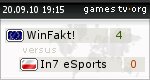 One of the 3 sponsored Zero Empathy ET teams will try to get to the level of the other zeroE teams that are still in the Winner Bracket, by winning this match. However, their opponents have players that played extraordinary at lan events and that are also even better online. Not a easy task for the zeroE team, but they'll definetly put up a good fight!
myR|Mott4
: Lately we have try to practice abit for our upcoming matches and beat some decent teams, our teamplay is improving but we play vs a pretty good opponent imo so its gonna be a tough one but I think we can take this one with 4-2.
zeroE`TanQ
: We are performing good although we are kinda in a short break since some of us are busy with studying. We are just out of summer so we are not fully ready. Our opponent is a good team and they are performing good, but anyway I am expecting a win for us not sure about the score though.
Vice Gaming
TanQ
kaZer
kaze
MENTh
MetC
myRevenge e.V.
Luffy
Playboy
Mott4
An7ho
quake
Date:
Tuesday
Time:
21:00 CET
Maps:
to be decided
League:

ESL EMS VII Playoffs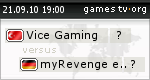 Belgians and Spanish, seems like an epic NationsCup match. After getting 4th place at AEF, and also adding
Jere
in their line-up, they are extremely motivated to get a good spot in this season of the ESL Major Series. Their only problem is that the Spanish want the same, having
Winghaven
as their key player. A very interesting match, and the last one from this stage, will be played on
Tuesday night
, at
22.30 CET
. Don't miss it!
magico
: We are performing good, but we still need to improve some things. I expect a tight match, 4-2 for Aero Gaming even though we will try our best to take the victory!
Aero`Sup3r
: Our first game, WCK wasn't really a game to write home about. It was the first time we played with our new recruit Jere and we didn't even explain him all the tactics yet. I can't say we are satisfied with our performance because we know we can do a whole lot better, I'm only satisfied with the result cause that's the only thing that counts!
Our next opponent is the team gzcon filled with 5 skilled spanish players! So far I have no idea how they are performing so I'm not sure what to think of them.. we won't underestimate them that's for sure but I'm pretty confident we can and will beat them! We don't prac as much as I'd like to ... because we don't really have prac-days set, we just play when everyone is on ventrilo and feels like playing untill someone has to go or if we can't find any decent wars anymore.
Well as I said before I'm not sure what to expect from gZcon... I think we will be able to win but I have no idea how close or exciting it will get, I think everyone should come and check it out this tuesday! :P
Aero Gaming
Al1
Sup3r
uNDEAd
Jere
Lun4t1C
Gamerz-Con
magico
Gengis
Rad!fz
WeZoR
Winghaven
Date:
Tuesday
Time:
22:30 CET
Maps:
to be decided
League:

ESL EMS VII Playoffs