•
4 Oct 2010, 18:43
•
News
The matches are already scheduled, so the qualifiers should end tomorrow. So here we are, just 4 matches left and we will know the teams that will take first seed in the
ESL Major Series VII Group Stage
. Plenty of action tonight, plenty of action tomorrow. Don't miss it!
32 teams tried to qualify in the EMS Group Stage, only 16 were able to do so. Who are them and how are they seeded, you will see in just a few days. However, tonight, 4 teams will battle to get the first seed and instant acces to an easier group. Who are those teams? Check below.
Tonight, 21.00 CET! After taking their revenge on
Gamerz-Connexion
for beating them in the Winner Bracket, Aero will try to get first seed by beating the legendary estonian squad. Their job won't be easy, since the estonians will surely unleash their power tonight, being so close to get the first seed in the Group Stage! Tune in to see this exciting match!
Aero`Jere
: We'll try to get the first seed. :) Altough we lack Sup3r due to inet problems, we got his bro Gifted to replace him. We hope to take it to a second match at least. 8-2 Aero :-)
manttt
: Gonna be easy for aero - top 16 team vs #19, but we have JyrkZ, so you never know.
Aero Gaming
AL1
Gifted
uNDEAd
Jere
Lun4tic
Squad.ee
Raull
manttt
JyrkZ
subbi
walle
Date:
Tonight
Time:
21:00 CET
Maps:
to be decided
League:

ESL EMS VII Playoffs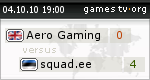 They are performing extremely well lately, beating even dignitas in their own cup, yesterday. They will try to keep their performance at the same level, tonight, as their opponents will surely try to surprise them. Will they be able to win it easily, or will they rage after tonights' match, we shall see pretty soon!
RG`Lazio
: Idk should have the upper hand since we aren't that well prepared, but we want revenge for our previous loss, so gonna give them a hardfought game !
Clown
: We've played rage once already, and it was a really hard game, we won 3:1, with double fullhold on supply and win on radar. I think today it's going to be as close as it was last game and I hope we can come out on top again!
RAGE Gaming
Lazio
griim
Kamz
Eirik
hell
i dont know
Clown
frEeze`
Zak-
filuS
crumbs
Date:
Tonight
Time:
21:30 CET
Maps:
to be decided
League:

ESL EMS VII Playoffs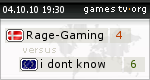 They are now Epsilon! After joining this organization, they seem to be very motivated and they are also getting good results, and they'll surely try to get a good result tonight. Let's not forget the extraordinary match that their opponents had on their last EMS match, winning against ECW with the score of 5-3, after 4 exciting maps. Whatever the result will be, this match will surely be cool to watch!
Epsilon`XyLoS
: Since there aren't any lans coming soon we're not praccing that much and I expect them to give us some problems. Anyway if we play good we will get it 4-0.
zeroE`numeric
: We ain't playing at our best lately. However, Impact seems to be in shape. We will do our best and hopefuly take a map. Score: 4-2 impact.
Epsilon Esports
R0SS
sqzz
mAus
XyLoS
hayaa
Zero Empathy
Jinosta
razz
zMk
Frag`Stealer
numeric
Date:
Tomorrow
Time:
21:00 CET
Maps:
to be decided
League:

ESL EMS VII Playoffs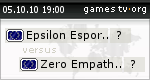 The new OVERLOAd team, the dutch version, are eager to prove themselves, and they are already qualified in the EMS VII Group Stage. But they aim high, so they'll try to win against their opponents, that's for sure. However, their opponents are tough, but not impossible to overcome, as we could have seen in the dignitas cup. All in one, this should be a very interesting match to watch, so tune in to see it!
ovr-joshua
: We are not playing very well the last matches. Our games are very unstable. We always have a chance, but it is an 1 percent chance against dignitas. 4-0 for them. ;)
dignitas`Anderson
: no statement released.
OVERLOAd.
saKen
joshua
crook
Boss
Lav0d
Dignitas
Anderson
drago
karnaj
Jakazc
olBaa
Date:
Tomorrow
Time:
21:00 CET
Maps:
to be decided
League:

ESL EMS VII Playoffs