•
17 Oct 2010, 15:42
•
News
ESL Major Series Kick Off in the Enemy Territory Section!
Officially the 1st matchweek is already running since Monday but nearly no match was played. Only two teams did not hesitate and kicked off this season! Six other matches will follow this evening! The 1st match day will be completed Tuesday due to an already wildcarded
match
.
Read more about the matches, statements and predictions
The season 7 Kick Off match:
78 Viewers saw a match without a surprise in the end (according to the odds) even though it was tight at some times. After the match
Kartez from
Wolf Crazy killer
had the
following to say
:
Tonight's matches:
Six matches will take place tonight. Every hour starting from 20:00 CET two matches will take place. Again we talked to all teams to give a short statement regarding their first group stage match. The complete statements can be found
here!
Group B
It is the 4th EMS for last season's 7th placed team
Sleeperz
playing now under the flag of
Rage
who will face the EMS newcomers from Poland:
Blurred Vision
Statement by
RG'Lazio
Statement by
bv' fixxxer
RAGE Gaming
Lazio
griim
Kamz
Eirik
hell
Blurred Vision
Estaloth
hunter
Michalek
rumek
saqu
Krein
Date:
Tonight
Time:
20:00 CET
Maps:
to be decided
League:

ESL EMS VII Group Stage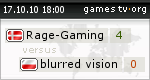 Group D
This season
Team Dignitas
wants more than the 2nd place of last season. Their first challenge will be
1stCav ET
who were stopped in last season's group stage.
Statement by
d.Drago[/b]]Once again we face our polish friends from
1stcav. We have adjusted our lineup a bit and are confident to take this match, but we wont forget that
1stcav are known to be a frisky opponent that might surprise us. Good luck and have fun to everyone watching and playing.
Statement by
1stCav Voiler[/b]] It will be very hard match for us.
Dignitas is one of the best teams at the moment and I believe that they will fight for glory in this Major Series Season. We haven't pracced this week so much but I don't think so it would change anything. We will try to do our best. I'm not optimistic about the score but with a big luck we should take one map : )
All Statements & Predictions
Dignitas
Anderson
drago
Jakazc
olBaa
Iron
1stCav
dolar
Boski
Czarek
miks
errol
Date:
Tonight
Time:
20:00 CET
Maps:
to be decided
League:

ESL EMS VII Group Stage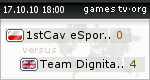 Group B
It is the 4th time in a row that Gamerz Connexion take part in this competition while they will face EMS Season II winner Impact Gaming playing under the flag of Epsilon Esports now.
Statement by
Epsilon`R0SS[/b]] They have a decent lineup with some strong inidividual players and have caused some upsets but also underperformed. We are coming off the back of winning dignitas cup so we feel quite confident. I expect us to win 4-0 but should still be a close game. GL to
gZcon
Statement by
gZcon[/b]]more
All Statements & Predictions
Epsilon Esports
R0SS
sqzz
mAus
hayaa
XyLoS
Gamerz-Con
magico
Gengis
Rad!fz
Wezor
Winghaven
Date:
Tonight
Time:
21:00 CET
Maps:
to be decided
League:

ESL EMS VII Group Stage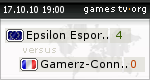 Group A
Last season's 3rd placed team
i dont know will also face an EMS newcomer from Germany:
HIGHBOT 2k10
Statement by
idk Clown[/b]] Haven't seen or played vs this highbot version, but I think they will be a good opponent. It's fun to play vs a team you haven't played yet, you never know what they can do, so It's a good reason for us to give 100% effort, they will do same I expect.
Statement by
HIGHBOT violy[/b]]
I Dont Know is currently for sure one of the strongest ET teams and thus not to be underestimated. I recently joined
HIGHBOT and therefore I can't give you a proper prediction. I can only say one thing, namely we will try to mobilize everything we have in order to give the spectators an entertaining match.
All Statements & Predictions
I Dont Know
Clown
frEeze
Zak-
filus
crumbs
Highbot
s1LENT
humM3L
fireBall
criatura
gr0ss
Date:
Tonight
Time:
21:00 CET
Maps:
to be decided
League:

ESL EMS VII Group Stage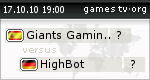 Group A
It is the second EMS for the guys from
Aero Gaming (former known as
Belgian Fraternity) as well as for the guys from
energy-WAVE ET.
Statement by
eWave kARn4J[/b]]Well aero got a really strong line up and they are praccing hard, according to the fact that we are not that active it's gonna be a tough match ! But I'm pretty confident since we just added jaLo to our team, I guess we could take this match by 4-2 if we are not playing rambo too much and if we are a bit lucky!
Statement by
Aero Robaciek[/b]]
With late lineup change due to
Sup3rs' problem with internet at university we are quite confident before the upcoming game. The match won't be easy but boys pracced hard and went pro to fight
rockstar and co. and give one hell of a performance. I say 3-1 to us.
All Statements & Predictions
Aero
AL1
Jere
uNDEAd
Lun4t1C
toxic
energy-WAVE
rockstAr
Nonix
anim
karnaj
Rizkk
Date:
Tonight
Time:
22:00 CET
Maps:
to be decided
League:

ESL EMS VII Group Stage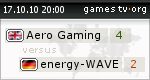 Group C
In the last match on Sunday the 4th time in a row participating and 2nd of Season 5 team
OVERLOAd will face the third EMS newcomer
stronger than hate.
Statement by
ovr-joshua[/b]]
Stronger than Hate has a good line-up. Good aimers, lots of experience. Don't know weather they are active on praccs. Think not. I hope it will be a 4-2 win for us but it could also go the other way around.
Statement by
sth rimi[/b]] Our recent performance has been surprisingly good, I just hope that we can keep it that way. I have not really seen
overload playing so I cant say anything about them, on paper they seem pretty good. We'll just have to wait and see what happens on server, but I believe we can take it.
All Statements & Predictions
OVERLOAd
saKen
joshua
chizz6l
Boss
crook
LavOd
Kevin
sth
frozz
calisto
komar
rimi
miNd
nuggan
Date:
Tonight
Time:
22:00 CET
Maps:
to be decided
League:

ESL EMS VII Group Stage