•
8 Jan 2012, 17:28
•
News
Today is Sunday, and this always means that there's a lot of fun comming up! Almost 40 matches will be played today, and all part of this 1st Matchweek! We will be providing a live update of each match, in the
ESL newspost
. You will be able to see all the scores and all the highlights of the matches with just a simple click!
Live updates
23:18
- End of Sunday Matches!
22:50
- Last 3 Sunday matches are currently being played in the Winter Leagues! Check them out
here
!
22:35
- Premier League matches are now over! 8k damage on Goldrush and 5 man kill is how the polish team managed to win against a very promising and reinforced
team ! 4-2 after an intense match!
hunter - Man of the match!
22:05
- DOUBLE FULLHOLD on Goldrush for
mCon
but delivered on Adlernest !
22:00
- 18 matches still being played !
tMoe vs Codelust
and
mCon vs This Is Madness
still without a winner!
21:40
- What a teamplay for the czechs from
zeroE on adlernest! Succesful combo: rape an oppo - take obj - make 3 man kill defending transmitter ! 2:23 on Adlernest = Game over for aToon!
21:30
- If you are stuck in traffic, tell your team mates that you can't play through facebook ! That's what happened in
this match
!
21:00
- SICK 3 man panzer by Elviss! Match closed, clean and easy for clan6!
20:55
- 25 matches are going to start in 5 minutes! Good luck spectating all of them guys! :D
20:42
- Queens delivered ! 4-0 against Kolmee Raitaa!
19:55
- Queens are going to
match soon
! 6on6 matches,
clan6 vs S.I.C.K
will be spectated by
FoaMeA and
ND vs NBS
by
Kwizlord! Expect some quality matches starting with 20.00 CET !
19:36
- Clean and easy for mCon!
19:12
- Hard victory for the wise guys! 4-0 against the yermans!
More details...
19:00
-
mCon vs UFO
started!
18:50
-
First surprise of this Sunday in 3on3 Premier League!
18:35
-
re+play managed to easily win against Priests!
18:00
- Three 3on3 matches from the premier league started!
17:30
- CF announcement
In each week we will feature/highlight the most interesting matches in the
first division
(3on3 and 6on6). As we are always happy to receive feedback from players, if you have any suggestion regarding what match(es) should be featured in the next weeks, feel free to post in the
ESL news
.
The first 6on6 match of this Sunday starts at 20:00 CET and features two great teams from Group C, with very good players that will surely do everything to get their first win in the Winter Leagues.
While the statements do not give us a certain winner since both team captains believe that their team will win, it leaves us no other choice than to tune in and see who will be the winner of this match!
Oxy
: Though we haven't really had much of a chance to prac at all other than the occasional midnight mix, it should definitely be an interesting match. Clan.et rosters a few players in their lineup that'll be giving us a hard time, nontheless I estimate...
view more
Kevji
: We haven't played a single match together yet, still I'm quite confident that we can take this match home. We have a team with a mix of good players that performed pretty well in their previous teams. Eventhough the lineup of our opponents looks pretty strong I'd say we can take this game with a 4:0 or 4:2.
Player to watch is probably
Kiwi for some insane aim actions.
S.I.C.K.
Iron
decem
Oxy
butchji
Kevin
potter
Clan.et
Kevji
kiwi
Elviss
stexx
Statti
kartez
Date:
Today
Time:
20:00 CET
Maps:
Adlernest, Goldrush
League:

ESL Winter Leagues 2011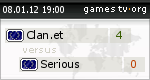 The 3on3 match that will be featured in this newspost is the one played by
Queens
and
Kolmee Raitaa
. We picked this one due to several players asking us to add this match into our newspost. Match will start at 20:00 CET and by the looks of the statements, I'd say that
Queens
till take this with no problems! Surprises may occur, so tune in to see the outcome of this match.
Artstar
: Well, I guess phyzic & sqzz will be performing good, my PC has been broken for a few months so there's no telling how bad I'll play, but will be fun to find out. :P I don't want to say we'll dominate them because I haven't played enough against the current 3on3 scene to know who is good and who isn't right now, but assuming our opponent have been active & have some knowledge of the game they could make this a tough match. No idea how it'll go. :)
Overall I'm looking forward to a nice relaxed 3on3 with some enjoyable moments! Player to spec...
view more
Queens
Artstar
sqzz
phyzic
Kolme Raitaa
Hyrtti
Pehnoo
Pittysku
Date:
Today
Time:
20:00 CET
Maps:
Delivery, Supply
League:

ESL Winter Leagues 2011
We have added a new rule for these
Winter Leagues
. If you do not play the match on GTV, our partners for the Winter Leagues and for everything that means coverage in ESL, you will be forced to upload a minimum of 5 screenshots(1 of each round that you played, and 1 screenshot with the TZAC IDs). Matches could be set as draw if you do not respect this rule* and you could receive penalty points for no matchmedia. Exceptions may occur. Every problem that you have with this rule, please discuss it with any ESL admin.
*This rule applies for ladders aswell.
Match reviews and after-match statements for the two opening matches can be seen in this
ESL newspost
.
Good luck & have fun