•
15 Jan 2012, 17:21
•
News
ESL Winter Leagues Matchweek 2
is here with a lot of matches been played tonight from all divisions, from all formats. We have decided to call this matchweek, the Week of the Favorites because after all the matches from this matchweek are played, we'll be able to see who are the teams that have the first chance of qualifying in the
Winter Leagues Playoffs
!
There are many interesting matches played this week, so we didn't know exactly which one to feature here, on Crossfire. However, the best 6on6 Premier Division Matches are featured in the
ESL newspost
. The matches will start at
20.00 CET, tonight
, so be sure to tune in to see the best matches of the night!
At
21.30 CET
, the best match to watch is the one from Group C between
S.I.C.K
, an allstars team that lost their first match against the new a.Toon team and
Splendid-Encrypt
that also lost their first match against
Clown's team,
CashPlease
. This is the last chance for both teams to qualify in the Winter Leagues Playoffs. Victory is the key in this match and both teams need it!
danL
: Our performance lately has been very shaky, we had ups and downs but I think that was mainly because we were trying to find the 6th player after diablos had to go inactive due to work. Now that diablos is sort of back I think we can hope to go back to better performances and give all our opponents a hard time. I expect this match to be very tight and I think the possibility of the match going either way is very high, be sure to watch, if nothing our matches are at least interesting, especially now since it's :be: Kevin's fourth attempt to...
view more
Oxy
:After having massively underestimated our last opponents we're sure not to make the same mistake again. We've been performing better, more like a team less like a mix these past days, though unfortunately we didn't get to prac much as many of our players have been facing various exams this week. We're looking forward to an interesting match and expect to go out of this one with a 4-0 if everything goes as planned. Though, it just never does. Players to watch, as always :de: Butchji and :fi: Iron
Splendid-Encrypt
mental
danL
diablos
m1ke
Ajit
hvK
S.I.C.K.
Iron
decem
Kevin
butchji
Oxy
potter
Date:
Today
Time:
21:30 CET
Maps:
Radar, Missile B3
League:

ESL Winter Leagues 2011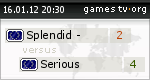 As promised, we will always do match reviews so that players that didn't watch the match to take a quick look at the reviews to see the main actions! You can see our recent match review and after-match statements in this
ESL newspost
. We hope you enjoy reading it and if you want to give out some feedback, you can always do it via the comment section from the
ESL newspost
!
Good luck & have fun