•
19 Jan 2012, 19:38
•
News
An amazing game will happen tonight in the
ESL Winter Leagues
. Both teams are fighting for their chance to qualify in the Winter Leagues Playoffs. The standings show only one team that might be qualified so far in the Playoffs from this
Group C
, so all teams are doing their best to be the 2nd team to qualify!
This match is between
Splendid-Encrypt and
a.Toon.et. Looking at the stats, I'd say the new a.Toon team has all the chances to qualify since they already won against S.I.C.K. On the other side, mental & co still without a win in this edition of the Winter Leagues. Maybe their luck will change tonight, who knows?
As you may remembered, the match between
Splendid-Encrypt and
S.I.C.K. had some problems and after many talks, we have decided to replay this match on
30th of January
. We all agreed that this match should be for the viewers, after all, two good teams will battle for a spot in the Winter Leagues, so it's a shame to see it decided by an admin. So keep that in mind while you read the statements from below!
Splendid-Encrypt
mental
hvK
Ajit
m1ke
danL
diablos
a.Toon.et
Kiwi
Kevji
Elviss
stexx
Kartez
Statti
Date:
Today
Time:
21:00 CET
Maps:
Bremen, Supply
League:

ESL Winter Leagues 2011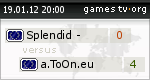 Good luck & have fun