•
22 Apr 2012, 14:03
•
News
ClanBase NationsCup XV Grand Final - Tonight 22:30 CEST!
The fifteenth edition of
ClanBase NationsCup
will come to an end for Enemy Territory this Sunday! Some high quality games have been played and two best teams made it through to the final stage. Coming from the upper bracket we got
Team United Kingdom
who has managed to gather one of the strongest and most stable team ever, and on the other hand we got quite a surprising finalist
Team Poland
. United Kingdom hasn't lost a single game in this tournament so far (only one map against Sweden!). Poles have already met with Brits in Upper Bracket Final where they didn't manage to take up a fight and lost 0-4. Although Poles weren't a favorites for the final victory, they have managed to beat some of ET's finest nations such as
Finland,
Belgium or
Netherlands. Due to these facts we can honestly say that it's deserved grand final for both teams.
United Kingdom
Baggiez
griim
koop
R0SS
rAzZ
sqZz
Team Poland
dialer
fanatic
Frag'Stealer!
hunter
lesti
zMk
Date:
22.04.2012
Time:
22:30 CEST
Maps:
TBA
League:

CB ET NationsCup XV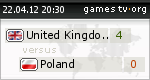 To win the grand final
Poland needs to beat
United Kingdom two times as they are coming into this match from the loser brackets.
This game will be most likely radio shoutcasted and streamed by
owzo
as well as broadcasted by
GamesTV
via ETTV so you won't miss this clash of the titans.
Team United Kingdom
previous wars:
4:0 vs
Russia - Group Stage
4:0 vs
Croatia - Group Stage
4:0 vs
Australia - Group Stage
4:2 vs
Sweden - Playoffs UB Round 1
4:0 vs
Germany - Playoffs UB Round 2
4:0 vs
Finland - Playoffs UB Round 3
4:0 vs
Poland - Playoffs UB Final
Team Poland
previous wars:
4:0 vs
Austria - Group Stage
4:0 vs
Italy - Group Stage
4:0 vs
Czech Republic - Playoffs UB Round 1
4:2 vs
The Netherlands - Playoffs UB Round 2
4:0 vs
Belgium - Playoffs UB Round 3
0:4 vs
United Kingdom - Playoffs UB Final
4:2 vs
Finland - Playoffs LB Final
As usual, I've gathered some predictions from known gamers and community members:
#clanbase.et