•
24 Jun 2012, 16:36
•
News
Matches have been wildcarded and other teams are struggling with the line up due to summer and exams. Nevertheless the Country Championship has to continue! The lower bracket matches have been scheduled - finally. In the meanwhile
Finland won against
Estonia. Check out what is coming next!
Tonight
The match between the Netherlands and Hungary has been wildcarded for two times! Finally we got a final match date! Here are the statements:
seb1
- Team Hungary
I can not really guess what will happen in the match against NL. I didn't really play against them lately, and also I didn't really watch them playing. I guess it will be a ...
read more!
saKen
- Team Netherlands
We haven't played against the Hungarians for a while and we were surprised to see them taking down ...
read more!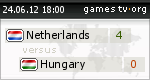 Lower bracket matches
Two matches are coming up. One is already scheduled. Here are the statements:
s1LENT
- Team Germany
We didnt play a single 3on3 with this lineup for months now and I for myself havent touched ET for almost 4 weeks now.Ive never been...
read more!
Artstar
- Team UK
UK roster is quite shaky, different in every match so far and we're definitely having problems due to not actually playing together often enough. though hopefully...
read more!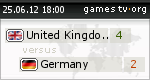 The 3rd match
Poland versus
Estonia has been scheduled for Monday at the lastest date but it is also possible that both teams will play tonight. So stay tuned for updates!
Related Links: