•
14 Jul 2012, 07:42
•
News
The second matchday is right under its way and still we got 16 teams in the bracket! All is still possible and the teams will give their best. Check out what they had to say on the upcoming matches! For all statements and the
lineups
check out the
ESL newsposting
.
Matchday 2
The 2nd matchday
ends on Sunday
and it will be the last match for 4 teams! Not all teams gave a statement yet but we try hard! Furthermore not all dates have been fixed. Therefore check out
gamesTV.org
to be up to date with the exact match dates!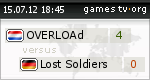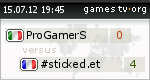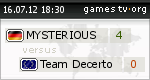 More Statements
We gathered some more statements regarding the other matches:
JoinTheForce - EUNd vs. Sleeperzzz

bSturz vs. Jungle Brothers

colt 45 and two zig Zags vs. Pharaons

miNd's Pro Gamers club vs. blurred vision

tryout vs. logic.et
For all statements check out the
ESL Newsposting
Prizes
The prizes are sponsored by
Ozone gaming gear
because it is all about evolution!
• 6x Ozone T-shirts
• 6x LAN bags with Ozone branding
• 6x wristbands with Ozone branding
• 6x Groundlevel Mousepads
Info:
The prizes are sponsored by Ozone gaming gear. The Electronic Sports League is not responsible for the prizes. Shipping by Ozone gaming Gear!
Related Links: